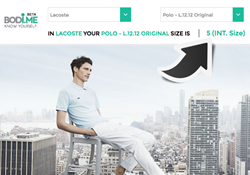 Large successful fashion brands are very happy to finally meet a sizing-solution provider with a strong customer focus.
London, UK (PRWEB) March 06, 2014
Bodi.Me, the latest solution in online sizing for fashion shoppers, announced today that its customer-centric website was launched in BETA mode. Bodi.Me's unique approach aims to create a free community of fashion shoppers that can confidently find their right size for tons fashion brands via the Bodi.Me portal. After collecting your body measurements http://bodi.me takes the headache out of the confusing size charts on fashion e-commerce websites.
"We understood that asking customers to create a body profile over and over again on different brand websites will prove extremely tedious", says Lara Mazzoni CEO of Bodi.Me , "what is needed is a central account that can be used whether you shop at Zara or Burberry. In fact, large successful brands know this too and they are very happy to finally meet a sizing-solution provider with a strong B2C focus."
Today the Bodi.Me website, with its slick look and feel, allows customers to get sized in 3 different ways: manual measurements (you measure yourself), webcam measurements (automatic measurements from 2 photos) and via a physical 3D body scanner (which they place in pop-up events and stores). Once sized, customers can "go shopping" their favourite brands as usual and a neat top window tells them which size to pick.
"We're constantly researching the latest technologies in sizing people with the least amount of friction," says Vanessa Burrows, Bodi.Me's CTO, "our next measuring tool will be based on a simple questionnaire, for example age, weight and height."
Bodi.Me is now launching the "login with bodi.me", a software as a service for fashion brands that can easily be integrated into any fashion e-commerce website, aiming to decrease returns and increase conversions.
About Bodi.ME
Founded in August 2013, Bodi.Me is a company based in London, with a team of technologists, pattern-makers and designers all playing all a complementary role in implementing innovative tools for fashion brands. While Bodi.Me created a community based around tracking your body, it also offers B2B omni-channel solutions for fashion brands including sizing widgets, visual cross-selling tools, avatars, 3D-body-scanners and interactive screens all based around finding the right size and fit for the customer, thus increasing conversions and reducing returns. Their sizing algorithm is bespoke for each brand / collection to give the highest accuracy and their motto "We're not just technologist, we have a deep understanding of the fashion industry and garment manufacturing."