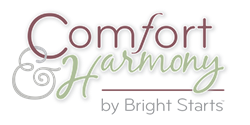 Comfort & Harmony products are made to help mom and baby get the most out of their time together.
(PRWEB) March 04, 2014
In another why-didn't-I-think-of-that moment, Comfort & Harmony introduces an enhancement for its mombo™ nursing pillow, the Comfort & Harmony mombo play™ Toy Bar that turns lounge time into playtime. The new Toy Bar attaches to the mombo, and its two dangling plush toys entertain babies as they lounge.
"Nursing pillows in general are seen as 'just for mom' items, but mombo is great for the baby too," said Comfort & Harmony's Senior Brand Manager, Katie Sng. "First the mombo itself is a two-sided nursing pillow: one side is firm for feeding and one is softer for baby's lounging. Now with the new mombo play Toy Bar, we've added some fun to baby's lounge time."
The Toy Bar is a sturdy but soft bar that arches from one arm of the mombo nursing pillow to the other attached securely with anchors and elastic straps so the baby can play safely. Each bar comes with two interchangeable plush toys and two loops for parents to add more toys. This add-on gives baby a focal point while they rest on the soft side of the mombo.
Sng said, "Comfort & Harmony products are made to help mom and baby get the most out of their time together. The mombo play Toy Bar is yet another element to help foster the mom-and-baby connection."
The Toy Bar will attach to any mombo, either the original or the mombo Deluxe. Both versions feature a two-sided design called Firm2Soft™ with one side firm for nursing and the other side softer for lounging. Mombo also has a removable Vibe Inside™ to give baby the ultimate soothing experience.
Sold at Target and Babies "R" Us, the Toy Bars come in two styles: neutral, featuring a plush lion and elephant, and pink, featuring a plush bird and flower. Both Toy Bars can be paired with any mombo Slipcover™, each made of two ultra-comfortable coordinating fabrics that can be interchanged to complement mom's and baby's style. The slipcovers are machine washable and the Toy Bar and pillows are easily wiped clean.
To learn more about the mombo play Toy Bar, visit comfortandharmony.com.
About Comfort & Harmony™
The Comfort & Harmony brand is designed to exceed baby's comfort needs while appealing to mom's sense of style. Every Comfort & Harmony product incorporates nurturing features, such as ergonomic designs and plush fabrics that are baby inspired and mom desired.
Comfort & Harmony is part of the Kids II, Inc. family of brands. To learn more, visit comfortandharmony.com.
About Kids II®, Inc.
Kids II has a 40-year history of inventing and reinventing baby and infant toys and gear and has quickly become one of the world's fastest growing baby product companies. Driven by innovation and a comprehensive brand portfolio, Kids II designs, markets and distributes more than 400 unique baby and infant products, launching 125 new products a year across the globe. The brand portfolio strength runs deep under the Kids II umbrella, which includes Ingenuity™, Comfort & Harmony™, Bright Starts™, Baby Einstein™, Disney Baby™, Oball™ and Taggies™. Kids II spans the globe by selling products in more than 70 countries and maintains 13 global offices, including international affiliate operations in Australia, Canada, Europe, China, Hong Kong, Japan, Mexico and South Africa to manage its global operations. To learn more, visit kidsii.com.