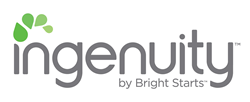 Ingenuity products answer the call for smart functionality with an eye for design.
Atlanta, Georiga (PRWEB) March 04, 2014
Ingenuity™ is introducing the new in-home Moonlight Rocking Sleeper™ in the Lullaby Lamb fashion featuring night time projection, in stores now. Joining the extensive collection of intuitive in-home gear, the Moonlight Rocking Sleeper features the new Soothing Starshine™ that projects a soft light show to help babies drift to sleep.
"Ingenuity products answer the call for smart functionality with an eye for design," said Ingenuity's Senior Brand Manager, Meredith Robinson. "The Moonlight Rocking Sleeper epitomizes that intuitive marriage with its new projection technology and whimsical, yet still practical design."
The Moonlight Rocking Sleeper features all the elements to help baby (and mom) get a good night's sleep. The Soothing Starshine projection displays the night sky on the nursery ceiling while eight melodies, three nature sounds and a removable vibration unit lull baby to sleep. Attached to the mobile are two plush lamb toys that tie in with a lamb-shaped headrest.
In the Lullaby Lamb fashion, the sleeper is styled for a cozy feel with warm creams and robin's egg blue accents in plush, soft fabrics. The sleeper has breathable mesh panels, and the seatpad is machine washable. Sold at Walmart, the Lullaby Lamb Moonlight Rocking Sleeper is priced at $54.99.
To learn more about the Moonlight Rocking Sleeper, visit ingenuitybaby.com.
About Ingenuity™
Ingenuity designs and develops the industry's most intuitively-designed gear for babies, with a focus on smart, easy-to-use products that help parents adapt seamlessly to life with a baby. Every design is based on modern styling and technologically-savvy solutions that were designed with parenthood in mind.
Ingenuity is part of the Kids II family of brands. Visit ingenuitybaby.com.
About Kids II®, Inc.
Kids II has a 40-year history of inventing and reinventing baby and infant toys and gear and has quickly become one of the world's fastest growing baby product companies. Driven by innovation and a comprehensive brand portfolio, Kids II designs, markets and distributes more than 400 unique baby and infant products, launching 125 new products a year across the globe. The brand portfolio strength runs deep under the Kids II umbrella, which includes Ingenuity™, Comfort & Harmony™, Bright Starts™, Baby Einstein™, Disney Baby™, Oball™ and Taggies™. Kids II spans the globe by selling products in more than 90 countries and maintains 13 global offices, including international affiliate operations in Australia, Canada, Europe, China, Hong Kong, Japan, Mexico and South Africa. To learn more, visit kidsii.com.