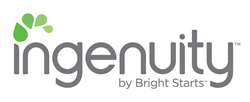 Ingenuity brings together the needs of smart functionality and chic design.
Atlanta, Georgia (PRWEB) March 04, 2014
Ingenuity™ introduces a new in-home product for baby which features smart-device connectivity in conjunction with the new Emerson fashion. The InLighten Cradling Swing™ offers parents the option to use their smart devices to customize music and pictures, along with lights and an electronic mobile with plush toys, to entertain baby.
"Ingenuity brings together the needs of smart functionality and chic design," said Ingenuity's Senior Brand Manager, Meredith Robinson. "The InLighten Cradling Swing demonstrates that items for your baby can be as smart and as stylish as items you'd choose for yourself."
The InLighten Cradling Swing with its ConnectMe™ feature allows parents to select their own music and pictures or videos for their baby's entertainment. The smart device can be placed into an overhead compartment with a clear screen in the mobile for the baby to see, but not touch. The Swing also rotates 180° so parents can always keep their baby in sight as the swing sways in one of three directions. A variety of six speeds, eight melodies, three nature sounds combined with 2 seat recline positions, a removable headrest and removable infant bolster help parents fine-tune their baby's precise level of comfort and entertainment. As an added feature, the swing includes an AC adapter so parents can save money on batteries.
Robinson said, "The clever features and versatility in the InLighten Cradling Swing are just the beginning for Ingenuity this year."
In the Emerson collection, the swing is styled with sophisticated and modern tans and teals made of plush, comfortable fabrics. Also joining the Emerson collection at Babies "R" Us is The Gentle Automatic Bouncer™, the ChairMate High Chair™ and the Washable Playard Deluxe with Dream Center™. Sold at Babies "R" Us, the InLighten Cradling Swing in Emerson is priced at $159.99.
To learn more about the InLighten Cradling Swing and the new Emerson collection, visit ingenuitybaby.com.
About Ingenuity™
Ingenuity designs and develops the industry's most intuitively-designed gear for babies, with a focus on smart, easy-to-use products that help parents adapt seamlessly to life with a baby. Every design is based on modern styling and technologically-savvy solutions that were designed with parenthood in mind.
Ingenuity is part of the Kids II, Inc. family of brands. To learn more, visit ingenuitybaby.com.
About Kids II®, Inc.
Kids II has a 40-year history of inventing and reinventing baby and infant toys and gear and has quickly become one of the world's fastest growing baby product companies. Driven by innovation and a comprehensive brand portfolio, Kids II designs, markets and distributes more than 400 unique baby and infant products, launching 125 new products a year across the globe. The brand portfolio strength runs deep under the Kids II umbrella, which includes Ingenuity™, Comfort & Harmony™, Bright Starts™, Baby Einstein™, Disney Baby™, Oball™ and Taggies™. Kids II spans the globe by selling products in more than 70 countries and maintains 13 global offices, including international affiliate operations in Australia, Canada, Europe, China, Hong Kong, Japan, Mexico and South Africa to manage its global operations. To learn more, visit kidsii.com.