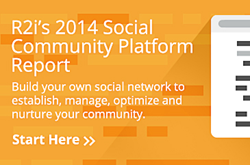 Baltimore, MD (PRWEB) March 04, 2014
R2integrated, a technology-enabled digital marketing agency, has released a new comparison report around the standard feature sets and capabilities of the top nine enterprise social community management solutions on the market. Organizations have a few options when deciding how to manage enterprise-wide private social networks as well as for how to participate in external social media and communities. Regardless of private or external community management, organizations have access to solutions designed for enterprise-level, and enterprise-wide, social communities that are sophisticated, feature-rich platforms that allow organizations to establish, manage, optimize and nurture their community.
Like its CMS Comparison Report and Marketing Automation Report, the r2i Social Community Platform Report is available in multiple formats: an interactive, online comparison tool with new functionality that shares evaluation annotations and a downloadable PDF of the full comparison. The main feature set categories compared are: core and additional social community features, profile and user overview, document management, messaging/communications, reporting, integration and accessibility and implementation.
Social community platforms included in the report are: Jive Software, Adobe Experience Manager: Social, Microsoft SharePoint 2013 + Yammer, IBM Connections, Telligent (Zimbra), Acquia Drupal Commons, DNN Evoq Social, Tibbr: Tibco Social and VMWare Socialcast ESN.
In an extensive study conducted by InformationWeek, after interviewing 451 respondents (286 IT and 165 non-IT), findings around the use of social networking tools and technologies in the enterprise confirmed that social is a core part of how the world communicates, inside and outside of organizations. In fact, 85% of respondents have enterprise social networking in place albeit with mediocre results; 18% of IT respondents consider internal networks a great success and 10% consider external social networks a great success. Despite lack of adoption, McKinsey & Co forecasts that "$900 billion to $1.3 trillion in annual economic value is created through the use of social technologies" with two thirds coming from social collaboration within an organization.
r2i's VP of Optimization, Frans Keylard, comments, "Brands are realizing the long-term value of managing their own social community and enterprise software vendors have developed solutions that blend "must-have" features from consumer social networking platforms to give brands feature sets that can also align with business rules. Owned social communities—private and external allow for a more personalized, and controlled, customer experience." He shares more about how brands can harness tribal knowledge with enterprise social networks in a recent blog post.
The r2i Social Community Platform Comparison Report is available for use; download now. For more on r2i, visit r2integrated.com.
About R2integrated
R2integrated ("r2i") is a technology-enabled digital marketing agency specializing in creating meaningful customer engagements in the ever-changing world of peer-to-peer interactions. R2i provides advanced expertise in content and social media marketing and is able to bridge the gap between marketing disciplines and the advanced technologies required for 21st century execution. The company offers a comprehensive set of professional services and technology products including social/digital marketing strategy and programs, social/consumer data analysis technology, content strategy and content distribution technology, and reporting and analytic –all geared toward customer acquisition. R2i clients include Microsoft, Under Armour, Black and Decker, MasterCard and Hershey's Chocolate World.