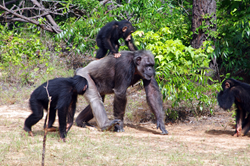 This year's Discovery Days and festivals promise to be exciting and fun for the entire family. We encourage everyone...to come and experience Chimp Haven.
Keithville, La. (PRWEB) March 04, 2014
Nature, science, education, family and fun all describe Chimp Haven's Chimpanzee Discovery Days. Located in the Eddie D. Jones Park off Highway 789 in Keithville, La., the National Chimpanzee Sanctuary offers this once-a-month event, rain or shine, from 9 a.m. until noon, March-June and September-November. Chimpanzee Discovery Days are the public's only opportunity to visit the sanctuary, which is located 25 miles southwest of Shreveport, La. Admission prices are: Adults – $6, Children (6-12) – $3 and Children (5 and under) – free. Guests are also encouraged to bring a contribution for the chimpanzees. Among the items needed are Mardi Gras beads, fresh or canned fruits and vegetables, unshelled nuts, peanut butter, sugar-free cereals, pretzels, sugar-free gelatin, pudding mixes, juice and syrup, multi-vitamins, vitamin C tablets and aspirin (81 mg).
In addition to five traditional Chimpanzee Discovery Days, two festivals, Spring Fling and Fall Festival, are also being hosted in 2014. To help visitors experience all activities, festival days will be extended an extra hour.
"This year's Discovery Days and festivals promise to be exciting and fun for the entire family," Chimp Haven President and CEO Cathy Willis Spraetz said. "We encourage everyone in the local community as well as those from around the country to come and experience Chimp Haven."
Visitors, separated by a water moat from Chimp Haven's residents, are able to view more than 40 chimpanzees, including seven youngsters, in natural wooded habitats. Staff members are available as interpreters to help guests identify the chimpanzees and their behaviors as they forage for food and interact with one another. Other must-sees during Chimpanzee Discovery Days are:
Chimp Trails – Take a walk through the sanctuary's naturally wooded trail and play Chimpanzee Tic-Tac-Toe, learn to knuckle-walk like a chimpanzee, and fish for Tootsie Rolls in the simulated termite mound just like the chimpanzees do.
Enrichment Station – Discover what enrichment means for a chimpanzee. Enrichment could be in the form of a novel fruit or something more unique like the rhythms of an African drum group.
Greenhouse Exhibit – Learn about Chimp Haven's sustainability efforts and the chimpanzee diet by taking a tour of the sanctuary's greenhouse.
Behind-the-Scenes Hayride – Explore Chimp Haven on a 30-minute staff-led tour. The tour offers two in-depth demonstrations and presentations and allows riders to see parts of the sanctuary that normally are not open to the public. Tour Fees: Adults – $10; Children – $5.
Following Chimpanzee Discovery Days, visitors are invited to attend Chimp Chat & Chew. This event includes lunch, a behind-the-scenes tour of the sanctuary and a presentation by a staff member. The 2014 Chimp Chat & Chew dates are as follows: March 8, May 10, June 14, September 13 and November 8, beginning at noon. Prices are: Adults – $50 and Children – $25. Reservations are required. To RSVP for Chimp Chat & Chew or for sanctuary directions, call (318) 925-9575 or visit chimphaven.org. For more information on things to see and do in Shreveport-Bossier, visit shreveport-bossier.org.
2014 Chimpanzee Discovery Days Dates:
9 a.m. to noon
March 8
April 12*
May 10
June 14
September 13
October 11*
November 8
Festivals are 9 a.m. to 1 p.m.*
Chimp Haven, The National Chimpanzee Sanctuary, is an independent, nonprofit 501(c)(3) organization whose mission is to provide a permanent retirement sanctuary for chimpanzees no longer used for biomedical research, entertainment or as pets. Located 25 miles southwest of Shreveport, La., in the Eddie D. Jones Park in Caddo Parish, Chimp Haven opened its doors to the first residents in April 2005.