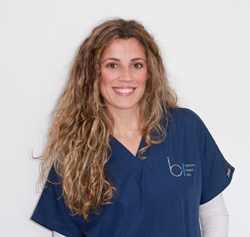 We are proud to have Dr. Aviles on board with our team.
Brighton & Hove, East Sussex (PRWEB UK) 12 March 2014
Operating upon the core principles of "care, compassion, and credibility", Brighton Implant Clinic's dental team members strive to give every patient first-rate dental care that is convenient, customised to the patient's needs and crafted for the patient's long-term well-being. The premier UK dental implants centre is proud to announce the latest addition to its dental team, Dr. Maria Parra Aviles.
Dr. Aviles draws upon experience in general and private clinical settings. A dentistry graduate of the University of Seville in Spain, she served in a Dental Polyclinic from 2009 to 2012 at university. At the polyclinic, she was active in oral surgery, preventive and community dentistry, restorative dentistry, prosthetics, pediatric dentist and periodontology. She graduated from the University of Seville in 2012.
From there, Dr. Aviles worked as a dentist in practices in Malaga, Spain before and in London after coming to the UK in late 2013. She holds multiple interests in sports, travel, cooking, and reading, and looks forward to advancing her knowledge of best dental care practices in her capacity at Brighton Implant Clinic.
Dr. Bruno Silva, Principal Dentist at Brighton Implant Clinic, commented, "We are proud to have Dr. Aviles on board with our team. All of our team members share a common commitment to learning and implementing the best dental care practices for our patients' benefit, and Dr. Aviles shares in that passion. Our clinical commitment to our patients' needs is made all the stronger by her sharing her knowledge and dental expertise with our patients and accounting for their long-term oral health needs."
Brighton Implant Clinic has three clinic locations located in Hove, Hailsham, and Brighton, and is a two-time award winner of the Private Dentistry Awards. The practice's staff has collective experience of decades of implant placement and treatment services. It is internationally reputed for its world-class patient care and top-quality dental implant and treatment services, with patients venturing from all over the UK and as far as Australia and the United States for treatment.
Please visit http://www.brightonimplantclinic.co.uk/ to learn more about the practice's services and schedule a free initial consultation.