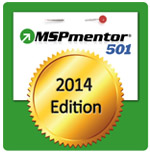 The achievements of our organization are a direct result of the combined efforts and passion shown by our entire team.
Philadelphia, PA (PRWEB) March 05, 2014
Excel Micro, Inc. has surfaced on Nine Lives Media's seventh annual MSPmentor 501 Global Edition (http://www.mspmentor.net/top501), a distinguished list and report identifying the world's top 501 managed service providers (MSPs). This year's report includes:

MSPmentor 501 Global Edition
MSPmentor 100 Small Business Edition (top MSPs with 10 or fewer employees)
MSPmentor 200 North America Edition
MSPmentor 50 EMEA (Europe, Middle East, Africa) Edition
MSPmentor 25 AANZ (Asia, Australia, New Zealand) Edition
New: In-depth data tracking of per user and per device pricing data.
"We are honored to be recognized again as a top MSP and we look forward to continuing our growth with our partners for years to come," said Joseph Vaccone, President and CEO, Excel Micro, Inc. "The achievements of our organization are a direct result of the combined efforts and passion shown by our entire team."
The MSPmentor 501 report is based on data from MSPmentor's global online survey, conducted October-December 2013. The MSPmentor 501 report recognizes top managed service providers based on a range of metrics, including annual managed services revenue growth, revenue per employee, managed services offered and customer devices managed.
"MSPmentor congratulates Excel Micro on this unique honor," said Amy Katz, president of Nine Lives Media, a Penton business. "Qualifying for our MSPmentor 501 Global Edition puts Excel Micro in rare company."
MSPs on this year's global 501 list lifted their combined annual recurring revenues $2.61 billion, continuing seven straight years of strong growth. Together, those MSPs now manage more than 700,000 servers, according to Jessica Davis, managing editor, MSPmentor.
MSPmentor, produced by Nine Lives Media, is the ultimate guide to managed services. MSPmentor features the industry's top-ranked blog, research, Channel Expert Hour Webcasts and FastChat videos. It is the number one online media destination for managed service providers in the world.
About Excel Micro
Excel Micro (http://www.excelmicro.com) is considered one of the industry's premier Software-as-a-Service distributors focused on cloud-based security and compliance solutions. Excel Micro takes the burden out of having large minimum commitments, and gives partners the opportunity to take advantage of a program built for partners without any huge upfront costs. Excel Micro's approach is to provide partners with a true value add single point-of-purchase with round-the-clock sales and technical support from headquarters based outside of Philadelphia, PA.
Valued partners have full control over their account with a flexible monthly billing option, the ability to self-provision new accounts and solutions, access to a team dedicated to the industry, and the advantage of leveraging Excel Micro's in-house Development Team which is constantly improving on the overall experience. Partners have access to free exclusive tools such as Multi-Vendor ConnectWise Billing Integration which updates daily and Migration Tools. Excel Micro's program allows for partners to focus on building their business, generate more recurring revenue, and not have to worry about large commitments and long term contracts with separate vendors.
Excel Micro is recognized annually in the top 50 of the MSPmentor Global Top 501, Talkin' Cloud Top 250 Cloud Service Providers, and recently was named McAfee's 2013 Valued Added Distributor of the Year.
About Nine Lives Media
Nine Lives Media, a division of Penton (http://www.penton.com), defines emerging IT media markets and disrupts established IT media markets. The company's IT channel-centric online communities include MSPmentor (http://www.MSPmentor.net), The VAR Guy (http://www.TheVARguy.com) and Talkin' Cloud (http://www.TalkinCloud.com).