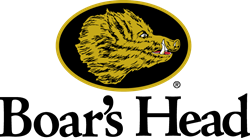 Sarasota, FL (PRWEB) March 05, 2014
With college basketball in full swing, Boar's Head Brand® is launching the Boldest Bracket Challenge, an online competition that allows fans to rally behind their favorite sandwich of the season. Sixteen food bloggers created recipes that will compete against one another in a bracket style format to see which one is the most delicious, flavorful and bold sandwich. Fans will help decide which recipe is crowned champion by voting for their favorites every day during each round, and have the chance to win prizes ranging from t-shirts to gift cards and even an iPad Air™.
To create their savory and mouth-watering sandwich recipes, bloggers chose their favorite meats, cheeses and condiments from the Boar's Head Brand® Bold® line of globally-inspired deli products. Ingredients like Boar's Head Brand Bold Blackened Turkey Breast and Bold Fiery Chipotle Gourmaise™ were chosen as key flavors in the Challenge.
To take part in the Challenge, visit boarshead.com/boldestbracket through March 31st and vote for your favorite sandwiches.
Boar's Head Brand is available at select supermarkets, gourmet stores and fine delicatessens across the country. For more information about Boar's Head Brand and its products, please visit boarshead.com.
About Boar's Head Brand®
Founded in 1905, Boar's Head Brand has upheld a commitment to unwavering standards for quality for over a century, refusing to take shortcuts that compromise the integrity of its products for the sake of convenience or economy. What started with just a few products has grown to over 500, ranging from premium delicatessen meats, cheeses and condiments to an array of Italian and Old World Delicacies and foodservice items. All Boar's Head Brand meats, cheeses and condiments contain no fillers, by-products, artificial colors or flavors, gluten or trans fat. For more information, visit boarshead.com or facebook.com/boarshead.