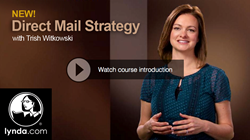 You can't "just send mail" and expect results. There's a strategy and a process involved, and I'm sharing it with everyone."
Baltimore, MD (PRWEB) March 05, 2014
Trish Witkowski of Foldfactory.com today announced the launch of her first online course, Direct Mail Strategy, at online education company lynda.com. The course consists of 8 chapters and 46 movies, each covering a vital direct mail strategy or concept. The goal of the course is to give direct marketers, designers, print professionals and small businesses the tools and strategies needed to get powerful results from mail.
The Direct Mail Strategy course covers mailing lists, marketing strategies, writing offers, engagement techniques, format options, testing, tracking and measuring results. Useful downloadable exercise materials are provided. The course format is flexible, whereas viewers can choose to watch the course all at once, or pick a topic and watch only what they need at that point in time.
lynda.com provides thousands of online training courses in subjects ranging from software, business and design skills to web, photography and more. "We're thrilled that Trish Witkowski is contributing course content to the lynda.com library, joining hundreds of other industry experts," says Kristin Ellison, content manager for the design segment at lynda.com. "Her insight on direct mail is invaluable and her passion is infectious. I know our members will find her course instrumental in helping make sure their next mail piece is both effective and on budget."
"I'm so proud of how the Direct Mail Strategy course turned out," says Trish Witkowski, owner of FoldFactory.com. "Mail is a fascinating topic and a powerful marketing medium, but you can't "just send mail" and expect results. There's a strategy and a process involved, and I'm sharing it with everyone."
Visit lynda.com and search for Direct Mail Strategy to view sample movies. lynda.com subscribers have full access to the course starting at $25 per month.
####
About FoldFactory.com
Professionals turn to foldfactory.com for custom folding templates, folding and direct mail resources, educational seminars and more. YouTube.com/foldfactory features hundreds of inspiring real-world samples and instructional videos for mail and marketing campaigns, and Trish Witkowski's "60-Second Super Cool Fold of the Week" video archive.