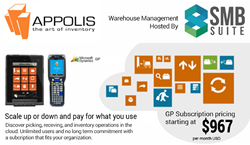 "On demand inventory transaction scalability with unlimited users, and smartphone, tablet and traditional rugged device mobility make this offering a great enhancement to our integrated Warehouse & Distribution solution."
Atlanta, GA (PRWEB) March 04, 2014
Looking to shake-up the SMB cloud market, SMB Suite—a Dallas based company offering industry-leading cloud financial accounting—and Appolis Inc.—a Minneapolis based company and leader in Warehouse Management Solutions (WMS)—announced today the launch of its WithoutWire WMS and related Inventory apps in the SMB Suite Cloud. Those attending Microsoft Convergence witnessed the launch of our new Cloud subscription based offering and how this offering lowers Client risk, provides a rapid deployment model and brings affordability to Client's that previously thought WMS was too expensive. All while maintaining their ability to gain real-time supply chain visibility throughout their operations.
Steve Dwyer, VP of Marketing at Appolis stated that the strength in SMB Suite's complete ERP solutions for the small / medium business created a strategic opportunity for partnering together. "We offer a lot of WMS functionality that is traditionally reserved for enterprise-level organizations and we wanted to bring that offering to the small business market. SMB Suite's expertise in integrating industry-specific solutions with Microsoft Dynamics made them a natural fit."
David Greer, CEO of SMB Suite stated; "On demand inventory transaction scalability with unlimited users, and smartphone, tablet and traditional rugged device mobility make this offering a great enhancement to our integrated Warehouse & Distribution solution."
The partnership has several benefits to the partners' customers. A 100% subscription cloud solution eliminates the heavy up-front capital investments found in traditional on-premise deployments and the native support of smartphones and tablets further reduce the upfront hardware expense, making the initial investment small relative to other competing solutions
About SMB Suite
SMB Suite is the first 100% subscription cloud Microsoft Dynamics financial accounting solution with native support for eCommerce, CRM, HR & Payroll, Warehouse & Distribution and more. All fully-integrated in real time and designed to grow with you.
http://www.smbsuite.com
About Appolis
Appolis WithoutWire™ Warehouse Management Solution (WMS) provides efficient inventory and process optimization for distribution and manufacturing organizations looking for more robust lot tracked traceability of inventory. WithoutWire provides control to the movement and storage of materials received into, moved within, and shipped out of your warehouse, remote inventory, field service or route delivery locations. WithoutWire Warehouse tracks the process associated with transactions, and provides real-time web-based visibility of your inventory. WithoutWire will increase productivity and customer satisfaction, while reducing costs and order fulfillment times to allow optimal decision making.