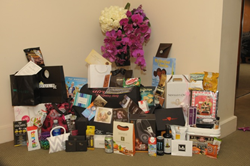 Los Angeles (PRWEB) March 04, 2014
GBK, the luxury lifestyle gift lounge and special events company, partnered with Title Sponsor airweave to honor the 2014 Academy Award Nominees and Presenters at the annual Gift Lounge on February 28th and March 1st. Established in Japan in 2004, airweave inc. is a leading manufacturer of premium bedding toppers and pillows.
It was a wet weekend in Southern California, but despite the rain celebrity guests flocked to the airweave and GBK Lounge to be pampered by the event's luxury lifestyle sponsors. Guests enjoyed music from DJ Shy, the first female On-Air Mixer at 102.7 KIIS-FM, and received a generous selection of gifts from participating brands. Among the luxury gifts included a range of trend-setting and unique finds including: Presenting Sponsor Tervis, who gifted personalized Tervis tumblers that are made in America and keep hot drinks hot and cold drinks cold; Arabia Escapes - from exclusive hotels, fascinating culture, fine dining, and incredible shopping, Arabia Escapes delivers access to unforgettable experiences in the Middle East and Northern Africa; BLOW e-Hookah, a revolutionary electronic hookah; pet supplies from Support Ur Pet, whose mission is to support pets through supporting their pawrents; Jigabot AIMe, an automated camera controller that can compose a shot to keep you in frame; Wine Me?, wine glasses that are one-of-a-kind luxury creations personally hand painted by artist Rebecca Suriano; Palace Resorts, who gifted a four day/three night stay for two at the brand's signature property, Moon Palace Golf and Spa Resort; Duck Commander Meals by Food Supply Dept, providing meal kits pre-packaged for outdoor adventures, natural disaster food insurance and emergency food storage; Activz, a whole-food nutrition kale, wheat grass and coconut powders that quickly increase the nutrition value of any meal; SOUL Electronics, gifting a variety of ultra-premium headphones; Relax 2 Yoga, gifting complimentary Yoga/Pilates training sessions; Artist Nelson De La Nuez (Known as The King of Pop Art) gifting a full color coffee table book featuring a collection of pop culture best sellers from his pop art genre; and ABC Limo, gifting vouchers for complimentary airport transfers to LAX.
Beauty-related items includee: Minerva Research Labs, who gifted Pure GOLD COLLAGEN®, a new generation liquid food supplement; Embellash Eyelash Conditioner, Brow Braun Eyebrow Conditioner, and Hands-Free Skin Brightener from The Crave Collection; a selection of makeup from Brow Art 23, an eyebrow threading boutique who also offers a wide range of beauty and skin car services; Obagi Skin Health Institute, who gifted $1000 gift certificates good towards laser hair removal; Sleep-In Rollers, hair rollers that are designed to flatten like a sponge; Éminence Organic Skin Care, gifting products from their popular VitaSkin™ Collection; City Cosmetics, an anti-aging skincare line gifting their City Lips, an award-winning advanced lip plumper; HD Brows, gifting their HD Brows Express treatment and demonstrating their Make Up by HD Brows collection; and cosmetic gifts from Very Pretty Skin.
On the fashion front, guests received gifts from: Sweet Bandz, a headband that is comfortable, folds for easy carry and has interchangeable designs; Alto Collective, distinct luxury wood accessories such as Phone Cases, Minimal Wallet and Longboards; Fiamma Jewelry, an exquisite collection of fashion and engagement jewelry; Soul Rx, a lifestyle apparel brand inspired by the practice of yoga; PISIDIA, a high end, eco-friendly silicone fashion handbag line; CamiWraps, a stylish attachable bra pocket with adjustable bands that that holds items like cell phones and money; high-end lingerie from Sugarbums; designer gowns from Xela Fashion - The brand brings to the fore a new, innovative fusion of Middle Eastern, European and Asian elements; and scarves from Silk by Bryony.
Gourmet sweets and treats were provided by Angie's Boomchickapop Popcorn, certified gluten-free, whole grain, and ridiculously delicious Sea Salt Popcorn; Newman's Own Wines, who was on site sampling and gifting four wines from the Newman's Own line; Peet's Coffee & Tea, the premier specialty coffee and tea company in the United States; gift certificates for a custom 8 inch cake as well as delicious treats from Bread Basket Cake Company; and Sammy's Beach Bar Rum, owned by rock icon Sammy Hagar and made in Maui from the world's best sugar cane and using a unique distilling process that produces the finest white rum made. A selection of delicions snacks were provided by Matt's Munchies, Awake Chocolate, Zingerman's Candy Manufactory; Open Road Snacks; Perfect Foods Bar; SeaSnax; COMBOS® Baked Snacks; MARATHON Bar®; popchips; Brownie Brittle; Pasta Chips; Vita Coco; Coco Cafe; and Monster Energy Drink. In support of LA Kitchen, Tender Greens Event Catering provided meals. Tender Greens Event Catering brings their restaurants' famed farm-to-fork sensibility and attentive service to special events. Chipotle was also on site to serve to guests. Chipotle offers a focused menu made from fresh, high-quality raw ingredients.
Sponsors featuring a charitable component included:
L.A. Kitchen, a nonprofit who mission is to ensure that neither food nor people ever go to waste. This is achieved by reclaiming healthy, local food that would otherwise be thrown away, training transitioning foster youth and older ex-convicts in culinary arts, and using this powerful pairing to empower, nourish, and engage the community. In partnership with L.A. Kitchen board chair, internationally-recognized culinary innovator Jose Andres will provide guests with $100 gift certificates to the future Las Vegas SLS Hotel & Casino, and Jose Andres gourmet specialty food products. JB
Dondolo, Inc., a nonprofit organization which primarily exists to provide charitable services for impoverished communities worldwide, will be partnering up with Snira Corp, an emerging IT services, consulting and business solutions organization that delivers real results to global businesses, ensuring a level of certainty. Guests will be gifted complimentary Galaxy Tablets, beach towels, totes and cause bracelets compliments of JB Dondolo, Inc. and Snira Corp.
HollyRod Foundation – Inspired by a father and a son, HollyRod Foundation was formed in 1997 by actress, Holly Robinson Peete and her husband former NFL quarterback Rodney Peete. The HollyRod Foundation is dedicated to providing compassionate care to those living with autism and Parkinson's disease. Flemings Steak House in Beverly Hills also provided the HollyRod Foundation the ability to give guests that visited their table $100 gift card to use at their leisure.
ABOUT GBK:
GBK, formerly GBK Productions, is a luxury lifestyle gifting and special events company, specializing in entertainment marketing integration. Formed in 2000 by Gavin Keilly, the company's Founder and CEO, GBK consists of five divisions: GBK Celebrity Gifting, GBK Special Events, GBK Weddings, GBK Charitable Consulting and GBK Marketing/Public Relations. Widely known in the entertainment industry for bringing that little extra something into the Gifting Lounge environment, GBK offers its clients a full range of marketing services. For more information on Gavin B. Keilly (CEO), Carla Domen (VP) or GBK, please go to gbkproductions.com.