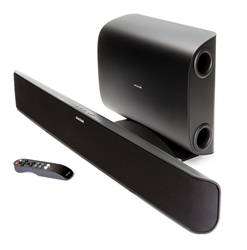 Toronto, Ontario (PRWEB) March 06, 2014
Paradigm Electronics Inc. an international leader in speaker design and manufacturing is pleased to announce it is shipping its Soundtrack 2, a 6-driver soundbar and wireless subwoofer system. This is a low-profile Paradigm-quality sound offering to match all flat panels. Bluetooth with aptX streaming technology. Includes 2-channel Music Mode and multichannel Movie modes with Dolby Digital and Paradigm Virtual Surround. No installation. No complicated technical setup. A great-sounding alternative to existing low-profile soundbars with sonic superiority based on Paradigm's 30 years of award-winning sound innovation. Fully powered via the built-in amplifier, Soundtrack 2 needs no additional A/V components for power.
Paradigm has been setting the standard for high-performance sound for many years so it should come as no surprise that they're focusing their attention on powered soundbar systems. One of the reasons they decided to tackle the niche was the lack of existing high-fidelity options. The physical con separation. Deep, articulate bass from the sub makes it the perfect solution for those short on room space or craving a minimalist aesthetic. Power numbers? 2 x 25 watts RMS Sustained; 2 x 50 watts Peak Power for the soundbar. The sub offers 240 watts Peak Power.
The onboard interface controls Power, Volume and Synching of the subwoofer with the soundbar. The system can learn power on/off, source select, volume up/down and mute from the television's remote so that both Soundtrack 2 and the TV can be controlled with just one remote. Discrete HEX codes are also available.
The soundbar features two bass/midrange drivers, two passive radiators and two high-frequency drivers. 4-1/2˝ bass midrange drivers and 4˝ passive radiators are a mineral filled polypropylene delivering a low-mass, high-stiffness cone. High-frequency drivers feature 1˝ satin-anodized aluminum dome tweeters for superb high-frequency performance, a rarity at this price point. Passive radiators promote extended lower frequencies. Driver complements are physically separated inside the cabinet ensuring sonic clarity and discrete channel separation. Snap-in feet are included for placing the soundbar on a flat surface.
The soundbar's rear panel offers digital optical and analog stereo inputs for hook-up of Blu-ray/DVD/CD players, gaming consoles, satellite receivers or other external sources. Analog outputs are included for wired subwoofer connection. Connections can be made via the soundbar or the TV, increasing the amount of inputs and improving the user experience. Users can opt for a wireless or wired sub.
The dual-ported subwoofer features an 8˝ laminated composite cone driver with a 1-1/2˝ high-temperature aluminum-wire voice coil. Oversized ports and driver are arranged in a perpendicular array to achieve the low-profile design with the dual ports providing deep, even bass response. The DSP signal-processing engine uses sophisticated mathematical algorithms to shape frequency response so that even at loud levels, bass is musical and accurate. The Digital Signal Processing platform is also behind the mathematical algorithms required for Paradigm Virtual Surround sound processing … a surround sound so realistic it makes this product a standout in the category. The sub can fit into a standard A/V cabinet, if desired.
"When it comes to all-in-one value-oriented powered audio solutions, our Soundtrack™ 2 system is a winner. Its high level of performance combined with a non-technical setup in a placement-friendly format, is what today's smaller living spaces are calling for. Bluetooth with aptX streaming, Music and Movie modes with Paradigm Virtual Surround and Dolby Digital decoding add hugely to the Soundtrack2 experience. Whether as the primary system or as a secondary system in bedrooms, dens, dorms, etc., customers are going to experience a music and movie experience that's very higher caliber. The built in amplifier make it a virtually plug'n play system," said Mark Aling, Senior Director of Marketing for Paradigm.
Soundtrack 2 is available in Black Gloss from participating Paradigm Dealers throughout North America and from the Paradigm SHIFT website (link below). MAP is $899.99/system (US & Canadian)
Additional details on the system including Technical Specifications are available on the Paradigm website: http://www.paradigm.com/products-current/collection=shift/model=soundtrack-2-system/page=overview.
For digital images, visit: http://www.flickr.com/photos/paradigmspeakers/sets/72157639364311444/.
About Paradigm Electronics
Innovative design, advanced materials, in-house manufacturing and state-of-the-art engineering have made Paradigm an international leader in speaker designs. With more than 400 industry awards for audio excellence and numerous rave reviews from around the world, Paradigm is committed to staying at the leading edge of speaker technology, delivering the ultimate in sound for music and home theater.