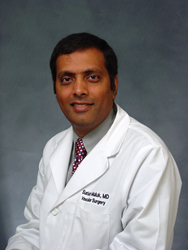 Clinical experience outside of the United States with the device has been very promising and we look forward to being a part of this important research.
Pittsburgh, PA (PRWEB) March 06, 2014
Allegheny General Hospital (AGH), part of the Allegheny Health Network, has been chosen as the only clinical trial site in Pennsylvania for a new investigational stent graft device designed to be used for the repair of infrarenal aortic aneurysms.
The EVAS FORWARD trial, sponsored by Endologix, Inc., will evaluate the safety and efficacy of the Nellix™ EndoVascular Aneurysm Sealing System (EVAS). The device is not commercially available in the United States, and will only be available at selected clinical study sites for investigational use.
"The Nellix EVAS system is a new generation of abdominal aortic aneurysm (AAA) therapy designed to seal the entire aneurysm," said Satish Muluk, MD, principal investigator of the trial and Chief of the Division of Vascular Surgery at AGH.
The aorta is the body's main artery, carrying blood from the heart to the rest of the body. AAA is an enlarged and weakened section, or "ballooning" of the aorta below the renal arteries that is prone to rupture with potentially fatal consequences. Infrarenal AAA occurs below the renal arteries, in the blood vessels that lead to the kidneys.
Fortunately, many patients benefit from minimally invasive (endovascular) repair of the aorta using special stents that create a new pathway for blood flow away from the aneurysm. With EVAS, once the stents are in place, special endobags surrounding the stents are filled with a polymer material to protect the aorta while excluding and sealing the aneurysm from blood flow.
Nellix is the first and only EVAS product and was developed to simplify procedures, reduce re-interventions and expand the treatable patient population.
"Clinical experience outside of the United States with the device has been very promising and we look forward to being a part of this important research," Dr. Muluk said.
Patients and referring physicians interested in learning more about the EVAS FORWARD IDE Trial may contact Sheila Bernadini at 412-359-3281.
Endologix Inc. develops and manufactures minimally invasive treatments for aortic disorders. Additional information about the Company can be found at http://www.endologix.com.
About the Allegheny Health Network:
Allegheny Health Network is an integrated healthcare delivery system serving the Western Pennsylvania region. The Network is comprised of eight hospitals, including its flagship academic medical center Allegheny General Hospital, Allegheny Valley Hospital, Canonsburg Hospital, Forbes Hospital, Jefferson Hospital, Saint Vincent Hospital, Westfield Memorial Hospital and West Penn Hospital; the Allegheny-Singer Research Institute; a soon-to open medical mall; and a healthcare group purchasing organization. The Network employs approximately 17,000 people, including more than 2,100 physicians on its medical staff. The Network also serves as a clinical campus for both Temple University School of Medicine and Drexel University College of Medicine.
###