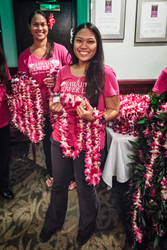 "This is the trip of a lifetime for most visitors and they want an authentic Hawaiian experience from beginning to end."
Honolulu, Hawaii (PRWEB) March 18, 2014
As spring breakers drift off their plane into the balmy Hawaiian air perfumed with fragrant flowers, it seems only natural they would receive a beautiful flower lei from a friendly local who warmly welcomes them with the expected "aloha." But with more than 8.2 million visitors last year, the days of lei greetings are over. Or are they? Honolulu Lei Greetings is infusing new life into this island tradition, empowering visitors with the ability to arrange just such an experience. As a result, the company is enjoying a big increase in airport lei greeting reservations this month.
According to the Hawaii Visitor's Bureau, visitors to the islands are looking for higher quality for their dollar. Honolulu Lei Greetings answers that call. The company greets visitors right at their gate, not at baggage claim like most tour group focused companies, and they offer a variety of lei choices including selections just for men. But what really sets them apart is the attention given to each visitor, or "guest," as the company likes to refer to them. Honolulu Lei Greetings' customers are escorted to baggage claim, given a map of the islands, and genuinely welcomed to the islands.
"This is the trip of a lifetime for most visitors and they want an authentic Hawaiian experience from beginning to end," says Honolulu Lei Greetings President Emily Steele. "Our flower leis are actually made by our greeters themselves, so when they give a lei to one of our guests, they are truly giving a gift from the heart, which is the Hawaiian way."
Honolulu Lei Greetings is based on Oahu and serves the Honolulu International Airport, however they also offer airport lei greetings in Kahului Maui, Lihue Kauai and Kona Hawaii (Big Island). Airport lei greetings may by arranged on the company website, http://www.leigreeting.com.