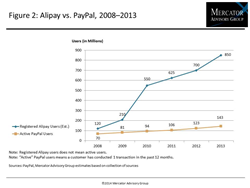 As Chinese political and economic influence grows around the world, the Alibaba Group and Alipay will be more active in providing payment services outside of China's traditional sphere of influence.
Boston, MA (PRWEB) March 04, 2014
An e-commerce giant within China, Alipay, the third-party payment service provided by the Alibaba Group, has shown unparalleled growth in the online payment space as Chinese consumers increasingly gain access to the Internet and online retailers. Since its launch in 2004, Alipay has seen the number of registered users soar to almost 900 million in 2013 according to Mercator Advisory Group estimate.
To expand beyond the online marketplace, Alipay in 2013 revamped its mobile wallet solution to facilitate mobile payments at the physical point of sale. The expansion into mobile payments has been widely successful. In early 2014, Alipay reported processing nearly $150 billion in mobile transactions in 2013, dwarfing PayPal's reported $27 billion in the same year. Alipay is also seeking to expand geographically. In 2014 and beyond Alipay will be deployed in a number of countries with large Chinese populations like Taiwan and Singapore, with a full-scale global rollout possible down the road.
Mercator Advisory Group's latest Research Note, Alipay: The E-Commerce Dragon Beyond the Great Wall provides context on the Chinese e-commerce and mobile payment segments by providing information and statistics on China's leading third-party payment service provider Alipay and its closest competitors. This Note also examine the company's growth prospects as it seeks to expand beyond its traditional markets.
"The outlook for Alipay is extremely positive as each year tens of millions of Chinese citizens access the Internet for the first time and more often than not also create Alipay accounts and use Alipay to purchase goods and services online. Apparently not content with controlling China's e-commerce market, Alipay has begun investing in expanding its presence into the mobile channel as mobile payment opportunities rapidly develop in China. Furthermore, as Chinese political and economic influence grows around the world, the Alibaba Group and Alipay will be more active in providing payment services outside of China's traditional sphere of influence," comments Tristan Hugo-Webb, Associate Director, International Advisory Service at Mercator Advisory Group and the primary author of the Research Note.
Highlights of the report include:

Overview of Alipay's e-commerce status and standing in comparison to PayPal and domestic competitors
An examination of Alipay's prospects in the mobile channel as well as its geographic expansion beyond China.
This report contains 11 pages and 3 exhibits.
Companies mentioned in this report include: Alibaba, Alipay, American Express, China UnionPay, Tencent, PayPal, and Standard Chartered
Members of Mercator Advisory Group's International Advisory Service have access to these reports as well as the upcoming research for the year ahead, presentations, analyst access, and other membership benefits.
For more information and media inquiries, please call Mercator Advisory Group's main line: (781) 419-1700.
For free industry news, opinions, research, company information and more visit us at http://www.PaymentsJournal.com.
Follow us on Twitter @ http://twitter.com/MercatorAdvisor.
About Mercator Advisory Group
Mercator Advisory Group is the leading independent research and advisory services firm exclusively focused on the payments and banking industries. We deliver pragmatic and timely research and advice designed to help our clients uncover the most lucrative opportunities to maximize revenue growth and contain costs. Our clients range from the world's largest payment issuers, acquirers, processors, merchants and associations to leading technology providers and investors. Mercator Advisory Group is also the publisher of the online payments and banking news and information portal PaymentsJournal.com.