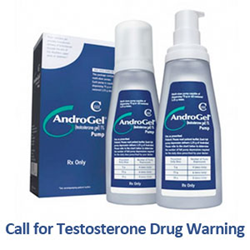 If your believe you have suffered cardiovascular problems due to testosterone therapy drugs such as Androgel and Testim, Call Wright & Schulte LLC today for a Free Legal Evaluation at 1-800-399-0795 or by visiting www.yourlegalhelp.com
Columbus, Ohio (PRWEB) March 10, 2014
As Testosterone lawsuits move forward, Wright & Schulte LLC notes that Public Citizen, a leading consumer advocacy organization, has petitioned federal regulators to mandate that testosterone drugs carry strong warnings regarding their potential to cause heart attacks, strokes and other serious cardiovascular problems. According to a report from Reuters, the group's petition cited a number of studies going back to 2010 as evidence for the need of a black box warning, the strongest possible alert the U.S. Food & Drug Administration (FDA) can mandate for a medication's label. The push for a black box warning on testosterone drugs comes after the FDA announced its safety review and five testosterone lawsuits were filed in Ohio. (Myers v. Auxilium Pharmaceuticals Inc., No. 14-278)[in.reuters.com/article/2014/02/25/testosterone-heart-
risk-idINL1N0LU27W20140225, Reuters, February 26, 2014]
According to Reuters, Public Citizen pointed out that 13,000 prescriptions a day are filled for testosterone products in the U.S., even though a quarter of the men undergoing testosterone therapy have not had a blood test to determine if they were actually suffering from low testosterone. In light of these facts, Wright & Schulte LLC agrees with Public Citizen's assertion that strong warnings are urgently needed to inform the public of the cardiovascular risks potentially associated with low testosterone therapy.
The firm continues to investigate potential testosterone lawsuits after speaking with men who have suffered heart attacks, strokes, pulmonary embolism, deep vein thrombosis, or other cardiovascular problems, allegedly due to AndroGel, Testim or other low testosterone treatment drugs.
According to the U.S. Food & Drug Administration (FDA), drugs like AndroGel are indicated for the treatment of low testosterone levels in men that are caused by a related medical condition. On January 31, 2014, the agency reported that it was investigating the cardiovascular risks that may be associated with this class of medications after two studies indicated that prescription testosterone therapy might increase the risk of heart attacks, strokes and death in older men or men with pre-existing heart problems. [fda.gov/Drugs/DrugSafety/ucm383904.htm, January 31, 2014]
After FDA announced its safety review, five AndroGel lawsuits were filed early last month in the U.S. District Court, Northern District of Ohio on behalf of men who allegedly suffered heart attacks, heart failure, strokes, and potentially deadly blood clots due to their use of AndroGel. (Aurecchia v. AbbVie Inc, 14-cv-00772; Benn v. AbbVie, 14-cv-00774; Gallagher v. AbbVie Inc., 14-cv-00776; Marino v. AbbVie Inc., 14-cv-00777 and Myers v. AbbVie Inc., 14-cv-00780;)
According to court documents from the U.S. District Court for the Central District of California, the manufacturer of Testim was also named in a testosterone treatment lawsuit filed on February 26, 2014, on behalf of man who allegedly suffered a heart attack after using several doses of the medication. (Myers v. Auxilium Pharmaceuticals Inc., No. 14-278)
Men who used AndroGel, Testim or a similar drug may be eligible to file their own low testosterone therapy lawsuit if they experienced serious and life-threatening cardiovascular events during treatment. To learn more, or to arrange for a free legal consultation with an attorney at Wright & Schulte LLC, please visit yourlegalhelp.com.
About Wright & Schulte LLC
Wright & Schulte LLC, an experienced personal injury firm, is dedicated to the belief that America's legal system should work for the people. Every day, the attorneys of Wright & Schulte LLC stand up for the rights of people who have been injured or wronged and fight tirelessly to ensure that even the world's most powerful corporations take responsibility for their actions. If you're looking for a law firm that will guarantee the aggressive and personal representation you deserve, please do not hesitate to contact Wright & Schulte LLC today. Free Lipitor lawsuit case evaluations are available through yourlegalhelp.com or by calling 1-800-399-0795.
Contact:
Wright & Schulte LLC
812 East National Road
Vandalia, Ohio 45377
1-800-399-0795
http://www.yourlegalhelp.com