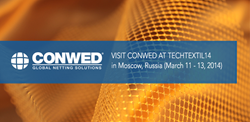 Minneapolis, MN (PRWEB) March 04, 2014
Conwed, the leading plastic netting manufacturer in the world, will exhibit at Techtextil Russia 2014 in Moscow (March 11-13, 2014). As part of the Belgian Pavilion, Conwed will be showcasing its netting portfolio at booth B63. For more than 10 years, this International Trade Fair for Technical Textiles, Nonwovens and Protective clothing has gathered international specialists, manufacturers, OEMs and converters with links to the textile industry.
"Conwed is the partner of choice in product development and our netting is an essential component in hundreds of industrial and consumer products in many different industries worldwide," said Bert Paesen, Business Development Manager at Conwed. Typically used to reinforce, laminate and bond different substrates, plastic netting is incorporated using different processes such as extrusion coating, thermal, wet and dry lamination, diverse non-woven processes and more. "We developed an entire section called Plastic Netting 101 that explains how plastic netting is made, how it can be customized and how it can be incorporated to other materials. It helps manufacturers visualize the potential of our products," said Paesen.
From automotive, filtration and medical applications to hygiene, disposable and consumer products, our netting is incorporated to achieve reliable lightweight reinforcement and stretchability. "Our netting portfolio can be customized to different applications. It is an exceptional reinforcement material", said Stefan Tielen, General Manager Europe at Conwed.
Among the products highlighted at the Techtextil Russia exhibition, Conwed will display co-extrusion netting. Co-extrusion is a multi-layer extruded netting than can be subsequently oriented where different polymers can form different layers on the same netting configuration. It is a square netting construction and Conwed has the ability to build netting with A/B, A/B/A, and A/B/C layer combinations. "Conwed designs netting components that enable lamination and bonding to many different materials and substrates. Whether it is film, paper, foam, nonwoven or any other fabric, our team can customize the precise chemical formulation to create the desire composite," said Tielen.
European headquarters are located in Genk, Belgium and the European Conwed Team provides support to all Europe, Asia, Africa and Australia inquiries. Visit http://www.conwedplastics.com/ru for our welcome page in Russian.
About CONWED
Conwed is the leading plastic netting manufacturer in the world. Conwed manufactures extruded, oriented and knitted netting with unique customization capabilities. Headquartered in Minneapolis, Minnesota, Conwed has five manufacturing locations on two continents and a global distribution network.