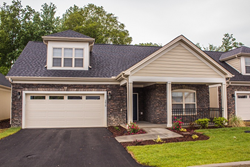 Wilcox's HECM program might just be the perfect way for you to take financing from daunting to doable.
(PRWEB) March 06, 2014
For the first time, federal HECM loans are now an option for prospective Wilcox homeowners. A family-owned company and Builder Partner of EPCON Communities, Wilcox offers high-quality, ranch-style homes in nearly 30 maintenance-free communities across seven states. Striving to make purchasing a new home as enjoyable and stress-free as possible, Wilcox's HECM program might just be the perfect way for you to take financing from daunting to doable.
HECM Basics
The HECM (or Home Equity Conversion Mortgage) for Purchase is a new program (since 2009) insured by the U.S. Federal government under the Federal Housing Administration (FHA). It is a variation of the traditional reverse mortgage and is designed for seniors ages 62 and older. The HECM for Purchase Program is also known as H4P. Eligibility requirements, as stated by the FHA, include:

Must be 62 years or older
Any property used as collateral must be the primary residence
Down payment must come from asset accounts (cannot be debt)
The FHA also requires prospective loan applicants to be free of federal debt delinquencies, suspensions and debarments.
Advantages of an HECM Loan
HECM loans have been designed to be hassle-free. The FHA-insured loan allows buyers to purchase their maintenance-free dream home in a Wilcox community with as little as 44-percent down. In addition, with the HECM loan, home buyers enjoy no monthly mortgage payments—no more having to remember to write out a monthly check.
Wilcox Communities is a strong proponent of a hassle-free life, offering maintenance-free living on all properties. From their northernmost community of Maples at the Sonatas in Woodstock, Illinois to the beachside community of Sea Pines at Bon Secour just off the Gulf of Mexico in Foley, Alabama, each Wilcox community employs a professional association to maintain individual home and overall community exteriors. Homeowners can leave behind the hassles of exterior upkeep while the association performs chores such as mowing, weed removal, fertilization, walk and driveway care and snow removal.
Additional HECM Specifics
A homeowner choosing a HECM loan is not personally liable for payment of the debt. The mortgage insurance fund that FHA manages assures that if the mortgage balance becomes greater than the loan balance, neither the borrower nor their heirs are liable for the deficit. FHA pays the lender the difference. The closing costs are similar to a regular FHA insured mortgage and are financed into the mortgage. They can include loan origination fee, FHA mortgage insurance premiums, a servicing fee, interest, and certain third party fees. After purchasing a home in a Wilcox community with a HECM loan, homeowners are required to occupy the home as the primary residence, keep up with property tax payments, maintain their homeowner's insurance policy and/or condo dues, and uphold the property to the original condition that it was in when the loan was closed.
Loan amounts vary and the amount a buyer is required to bring to the home closing will vary depending on the youngest borrower's age and the purchase price of the home. Very few lenders even know about this program. Security 1 Lending has partnered with Wilcox Communities offering the HECM program and can work directly with prospective buyers.
Learn more about HECM loans or the H4P by contacting Ann Marie Harrison at (877) 432-1070 or download a free Buyer's Guide.