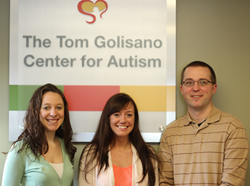 Rapid eating presents a choking hazard as a person takes dangerously large bites and finishes his or her meal too quickly.
Oneonta, NY (PRWEB) March 11, 2014
This spring, Director of the Tom Golisano Center for Autism at Springbrook, Traci Lanner, will present the results of a staff research project at the 40th Annual Association for Behavior Analysis International (ABAI) Conference. The conference, taking place in Chicago from May 23-25, is highly competitive in its selection of research and presentations.
ABAI is one of the world's most highly-anticipated and esteemed events in the field of behavior analysis. Springbrook is the local leader in providing supports for special needs adults and children. Presenting at this prestigious conference offers Springbrook the opportunity to reach a global audience.
Three Springbrook professionals from the organization's Tom Golisano Center for Autism, which provides educational and residential supports to children with autism, recently conducted the research. Clinical Coordinator, Brandon Nichols, Assistant Clinical Coordinator, Michelle Myers, and Classroom Teaching Assistant, Hannah Jacobsen worked with David McAdam PhD., BCBA-D, an Assistant Professor in the Department of Pediatrics, Neurodevelopmental and Behavioral Pediatrics at the University of Rochester. The team based their research on a previous project entitled Reducing Rapid Eating in Teenagers with Autism: Use of a Pager Prompt, by Melissa M. Anglesea, Hannah Hoch, and Bridget A. Taylor. Dr. McAdam and the Springbrook research team aimed to replicate the positive outcomes of the original project for the benefit of students at Springbrook. The goal of their study, Reducing Rapid Eating Using a Pager Prompt: A Replication of Anglesea, Hoch, Taylor, was to examine the possibility of reducing the physical and social risks associated with rapid eating in children with autism. Among other risks, rapid eating presents a choking hazard as a person takes dangerously large bites and finishes his or her meal too quickly.
The team worked with one young man with a history of rapid eating. Over a series of sessions, they recorded his regular eating habits. They then provided him with a vibrating pager that would buzz at intervals to prompt the young man to take another bite of his food. After several weeks, the group determined that the student was able to regulate the speed of his eating when using the pager, but would go back to his previous eating habits without the pager. The results of this research project may prove useful in adding another level of safety for children whose primary diagnosis is autism.