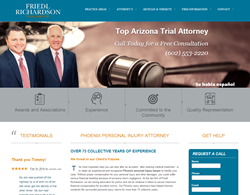 Top-Rated Phoenix Personal Injury Attorneys Friedl Richardson Demonstrates Expertise by Launching a Newly Branded Website
Phoenix, AZ (PRWEB) March 06, 2014
Phoenix personal injury lawyers William Friedl and Thomas Richardson have a newly designed website on a newly branded domain name FriedlRichardson.com. The firm's original website of approximately ten years located at the domain name azrichlaw.com caused some branding confusion. Therefore, the decision was made in 2013 to transition the domain name to the firm's name, helping to create a more consistent message from this highly-rated Arizona trial law firm.
Friedl Richardson is a reputable law firm with outstanding credibility throughout the community, serving clients all over Arizona as well as in other states. Throughout Friedl Richardson's history, the firm's exemplary ethical standards have resulted in a variety of awards and television appearances. One of the firm's most notable recognitions was being named an Arizona Top Ten Plaintiff's Verdict Winner in 2012 for a successful wrongful death case for $6,000,000.
Mr. William Friedl and Mr. Thomas Richardson have surpassed 17 years in business and have in excess of a combined 75 years of experience in all types of personal injury law. Their newly designed, fully responsive website reflects the expertise of the law firm with informative articles and a large amount of sample case results. Besides providing a genuinely helpful resource for accident victims, Friedl Richardson also provides interesting and educational posts relevant to all Arizona residents through the new Arizona Living blog located on the FriedlRichardson.com domain.
The firms client list is extensive throughout Arizona relying on referrals as the number one source of new business. Community involvement is a priority for both Bill Friedl and Tommy Richardson to ultimately create a safer place to live for residents. The law firms areas of expertise include wrongful death, car accidents, dog bite accidents, bicycle accidents, slip and fall accidents, and much more with client settlements in the millions.
Contact Information:
For interviews relating to legal matters, please contact attorney Tommy Richardson.
For questions related to other matters, please contact marketing director Randy Bonds.