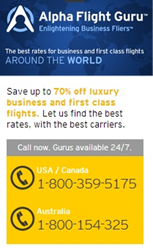 I am excited to show our customers the new, improved brand and our broadened emphasis on 'concierge-style' customer service, said Vlad Myasnyankin, CEO
San Bruno, CA (PRWEB) March 11, 2014
Alpha Flight Guru, a business and first class international flight provider, is proud to announce the launch of its new mobile website. The new mobile site allows customers to search for flights anyplace, anytime, with a simple mobile phone or wireless connection on an Android, iPhone or iPad device. The launch of the new mobile site is a stepping stone towards an updated brand identity and online experience. In its first few weeks of release, the new mobile site is showing much promise and a positive response from its users.
The mobile website brings a new capability to the Alpha Flight Guru travel experience. Now customers can search for flights while on the road, in the airport or at their leisure by the pool. This new site is just the beginning of an updated brand strategy for Alpha Flight Guru. Customers can look forward to an improved, user-friendly interface in the new design of its main website, anticipated to be released this summer. Also, Alpha Flight Guru continues to improve in its customer service by offering faster, more responsive service.
"I am excited to show our customers the new, improved brand and our broadened emphasis on 'concierge-style' customer service," said Vlad Myasnyankin, CEO. "Bridging the gap between the world of the Internet and personal, one-to-one connection is what we do best; and we really want to convey this message to our customers. Our mobile site is a small step towards something bigger. I'm looking forward to where we are headed as a company."
For more information about Alpha Flight Guru, visit our website or our facebook page.
About Alpha Flight Guru
Alpha Flight Guru was founded by a small group of individuals with over 30 years combined travel experience and has been serving the airfare needs of business and leisure travelers alike since 2010. Alpha Flight Guru carries a strong, global online presence with their headquarters based out of San Bruno, California, and additional locations in New York, Arizona and Pennsylvania.
Alpha Flight Guru specializes in business and first class international airfare, and typically saves travelers thousands over competitors by utilizing their extensive knowledge of the airline industry. Accredited by many travel organizations and supported with an 'A' rating by the Better Business Bureau, Alpha Flight Guru provides the best of online interaction and personal phone service.