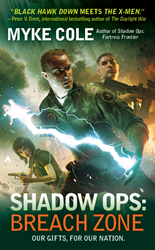 Hollywood, CA (PRWEB) March 04, 2014
Myke Cole's latest story, "Shadow Ops: Breach Zone," published by Ace Books, the third in the Shadow Ops series has just been released.
The original volume of the series, "Shadow Ops: Control Point" was released in 2012 to praise:
"Cross The Forever War with Witchworld, add in the real world modern military of Black Hawk Down, and you get Control Point, the mile-a-minute story of someone trying to find purpose in a war he never asked for. — Jack Campbell, New York Times Bestselling author of The Lost Fleet series," and the series has gained momentum ever since.
His writing career started when Myke was a winner and was published in the 19th annual L. Ron Hubbard Presents Writers of the Future volume, with his short story, "Blood and Horses", in 2003, making it further than several thousand others who entered the international competition. He has since published six short stories and the Shadow Ops series.
As a security contractor, government civilian and military officer, Myke Cole's career has run the gamut from Counterterrorism to Cyber Warfare to Federal Law Enforcement. He's done three tours in Iraq and was recalled to serve during the Deepwater Horizon oil spill.
The L. Ron Hubbard Writers of the Future contest was initiated by L. Ron Hubbard in 1983 shortly after returning to the field of science fiction with his bestseller Battlefield Earth.
For more information on the Writers and Illustrators of the Future contest, go to http://www.writersofthefuture.com.