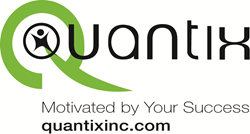 Denver, CO (PRWEB) March 05, 2014
Quantix, Inc., a leading Colorado business assisting IT professionals nationwide, is featured on Inc. Magazine's Build 100 list. The list features a sampling of companies that sustained growth for five consecutive years. An indication, according to Inc., of a company's future success.
"We are proud and grateful to be included in the Inc. Build 100," said Jill Reynolds, President and CEO. "This recognition for five continuous years of sustained growth is the embodiment of our philosophy to remain a long-term partner with the clients who have trusted us with their future growth."
"It is a direct result of the relationships we strive to build and maintain and also represents stability to our customers, consultants, employees and community."
To view the full list, visit http://www.inc.com/build100/index.html.
Inc. collected data on more than 100,000 United States midmarket companies. From there the magazine looked at which companies increased their head count every year from 2007 to 2012.
The Build 100 list features a select pool of companies meeting the difficult standard. Fewer than 1.5 percent of companies Inc. considered made the cut. From this 1.5 percent, Inc. selected a representative group that agreed to let the magazine analyze their company.
For more information about the Build 100 list, visit http://www.inc.com/magazine/201403/scott-leibs/sustained-growth-predicts-business-success.html.
To learn more about Quantix, please visit http://www.quantixinc.com.
About Quantix, Inc.
Since 2002, Quantix, Inc., a woman-owned corporation, has risen as a national leader in IT staffing and professional services. They deal openly and honestly with their clients and consultants and have built a solid reputation for integrity and consistent quality. Their goal is to become a member of their client's team, understand their hiring needs and deliver targeted talent and services at reasonable rates. Quantix offers a full range of technology staffing services including contract, contract-to-hire, direct-hire, strategic staffing and executive search. They provide individual consultants and project teams to Fortune 500, 1000, mid-size companies and governmental agencies across the country.