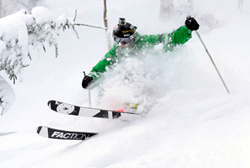 We've been spinning the lifts for close to 60 years and in that time have never experienced the number of skiers and riders who came out for the week...
Montpelier, VT (PRWEB) March 05, 2014
Blessed with abundant snowfall and a strong base due to Vermont's 80% snowmaking capacity, Vermont ski and snowboard resorts enjoyed a record breaking February holiday period. It kicked off on Friday, February 14th with a Valentine's Day storm dropping up to 2 feet of snow over the Green Mountains and continued for nearly 2 weeks through Presidents' Day and staggering Northeast school vacation periods. Vermont resorts reported both strong ticket sales and lodging numbers for the entire holiday period and are seeing a continued positive effect with late season lodging reservations.
Okemo Mountain Resort dropped ropes on the few trails (mostly glades) that hadn't opened yet this season - bringing the resort to 100 percent open in time for the vacation week. With a total of more than four feet of natural snow falling in February, Okemo had a solid week with its highest number of skier and rider visits of the season occurring during the Presidents' Day vacation week. Lodging was near capacity and remains strong on weekends looking forward.
Mount Snow Resort reports being up year over year for Presidents' week due in large part to abundant natural snowfall. Stowe Mountain Lodge was sold out for the entire Presidents' week, hosting young families looking for fun on the slopes. Jay Peak reports record numbers over the holiday period.
"Presidents' Week saw record numbers both in terms of skier visits and revenue," said JJ Toland, Jay Peak's Director of Communications. "We've been spinning the lifts for close to 60 years and in that time have never experienced the number of skiers and riders who came out for the week to carve up the new snow. And it looks like the momentum's going to continue right on through St. Paddy's Day with resort occupancy averaging 93%."
Sunday, February 16, 2014 was the busiest day for The Mountain Top Inn & Resort's Nordic center since current owners started keeping records 10 years ago. Neighbor, Killington Mountain, also saw a record day with the most skier and rider visits of the season on Saturday, February 15.
"The Beast of the East went big for President's Weekend with 100% of our 1,977 acres at Killington Resort and Pico Mountain open for skiing and riding," said Michael Joseph, Communications & Public Relations Manager at Killington Resort. "Killington logged the biggest skier visit day of the season that Saturday, with record midweek numbers in the snow sports school's signature Max 5 and Max 3 programs."
Psyched skiers and riders also made for hungry bellies. Okemo's Sitting Bull recorded a record day with a 20 percent increase over its previous best-day. Killington's new Peak Lodge, an on-hill hot spot for skiers and non-skiers alike, served up record-breaking numbers in farm-to-table meals over Presidents' week and Bolton Valley saw a 66% increase in hamburger sales year over year.
There is still plenty of winter to enjoy in Vermont, with fun, sunny spring skiing on its way. Find out more at skivermont.com.
Ski Vermont (Vermont Ski Areas Association) is a proud ambassador of the thriving winter tourism industry in Vermont, where the legislature has designated skiing and snowboarding as the official state sports. Vermont is not only the #1 ski state in the east and third in the US, but also reigns supreme in snowmaking quality and coverage, variety of terrain and historical impact on the sports of skiing and snowboarding - making it one of the most significant ski and ride destinations in the world. Ski Vermont's mission is to help create a legislative, economic and social environment in which the state's ski areas can grow and prosper. It serves its 19 Alpine and 30 Nordic member resorts in three major areas: Governmental Affairs, Marketing and Public Affairs.