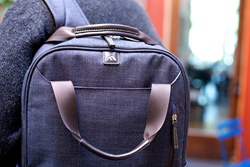 (PRWEB) March 12, 2014
With a growing number of laptop models in the market, Google Chromebooks are emerging as a multipurpose and affordable technology option. Brenthaven is committed to supporting you and your Chromebook technology, providing highly protective sleeves, backpacks, messenger bags and briefs that are specially designed to fit Google Chromebooks, including Samsung, HP, Lenovo, Dell, Acer, and Toshiba models.
Brenthaven has created a variety of Chromebook protection options to fit any lifestyle. The Brenthaven Collins Collection includes briefs, messenger bags, backpacks, and sleeves that are well suited to fit 11" through 14" Chromebook models. With High Density Foam Protection, padded Chromebook and tablet pockets, and stylish exterior in heather gray, indigo chambray, or camel chambray, the Collins Collection makes an ideal traveling and carrying companion for your Chromebook.
The Elliot Collection offers a sleek, low profile carrying solution featuring sleeves and briefs that are fitted for Chromebooks up to 14". With quilted High Density Foam laptop protection and easily accessible compartments, the Elliot Collection is the ultimate Chromebook carrying solution for the business professional.
Brenthaven BX2 Sleeves are a durable, protective sleeve option for Chromebooks, featuring a Secure Grip handle to keep your device stable when carrying, and BX2 Xtreme Foam to provide four-corner drop protection with soft bubble lining for scratch protection. Fitted for 11" through 14" Chromebooks and available in three color ways, BX2 Sleeves are a revolutionary sleeve carrying solution, guaranteed to keep your Chromebook safe and accessible.
Price and Availability
All Chromebook cases and sleeves are available through our website http://www.brenthaven.com. Brenthaven's collection of Chromebook bags and cases are fitted for 11", 12", 13" and 14" Chromebooks and range in price from $39.95 to $99.95. All products feature a 100% Lifetime Guarantee and are crafted from high quality durable materials, built to last.
About Brenthaven
Headquartered in Seattle, Washington, Brenthaven is the leader in the design and manufacture of premium protective cases for mobile technology that keeps today's and tomorrow's entrepreneurs connected and protected on the go. We exist to deliver peace of mind for your digital lifestyle. Visit http://www.brenthaven.com for more information or check us out on Twitter @brenthavennews and Facebook.com/brenthavennews for access to special deals on Brenthaven products. For customer service, call (800) 803-7225 or email info(at)brenthaven(dot)com.