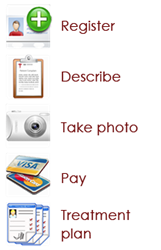 Treatments for most conditions, including acne, rashes, rosacea, melasma … and others can be delivered effectively without actually seeing the patient face to face
Philadelphia, PA (PRWEB) March 06, 2014
Ringpfeil Advanced Dermatology, the advanced center for dermatology and cosmetic surgery of Philadelphia and the Mainline PA, announced today a new online dermatology consultation service. The new service enables patients to receive diagnoses and treatment plans for their dermatological condition by a board certified dermatologist without a physical visit at the dermatologist office. The patients simply upload pictures of their condition, follow a simple online wizard to describe their condition, and receive a diagnosis, treatment plan, prescription, and lab order by the end of the following business day.
Many skin conditions today can be diagnosed accurately without requiring an examination in person. Reports show that the diagnosis of conditions through photos and clinical history are as adequate as a diagnosis during an in-person visit. Teledermatology has been successfully practiced in various academic settings, as well as in the military for many years.
"While an in-office encounter enables better patient-Doctor interaction, online consultation is an excellent alternative for patients who cannot meet their dermatologist in a timely manner. Many of our patients cannot take off from school or work in order to treat their acute conditions. Treatments for most conditions, including acne, rashes, rosacea, melasma … and others can be delivered effectively without actually seeing the patient face to face," states Dr. Ringpfeil.
The service is limited to people who reside in Pennsylvania. The cost of a consultation is $80, which is not covered by most insurance plans; however, funds from most Health Saving Accounts (HAS) can be allocated towards this service. The consultation process includes five simple steps: 1. Patient registration, 2. Description of the condition and the patient medical history, 3. Pictures uploaded 4. Payment, and 5. Login to a secured portal to receive the personalized treatment plan.
Visit our website to learn more about the new service, pricing, and to start a dermatological consultation.
About Ringpfeil Advanced Dermatology
Ringpfeil Advanced Dermatology provides premium general dermatology, cosmetic dermatology, dermatological and laser surgery to the Philadelphia, Main Line, and Delaware Valley area. The practice was founded by Franziska Ringpfeil, MD, a board certified dermatologist with training in both the US and Germany as well as national and international recognition through lectures, peer-reviewed articles and many book chapters. She is assistant professor at Jefferson Medical College and the recipient of the prestigious Young Investigator Award by the American Academy of Dermatology. Her practice provides uncompromised quality of care through experience, technology, and focus on patient satisfaction.