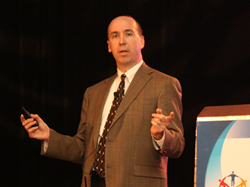 We live in amazing times and our world is about to become even more amazing in the near future due to a plethora of game changing technologies.
Phoenix, AZ (PRWEB) March 06, 2014
Author of "Foresight 20/20" Jack Uldrich will address the Precision Metalforming Association on March 6th in Phoenix, AZ. Uldrich, a renowned global futurist, independent scholar, and best-selling author, will deliver a stimulating new perspective on competitive advantage, organizational change, and transformational leadership. The Manufacturing for Growth (MFG) Meeting, running March 5-8, 2014 is produced in collaboration by PMA, AMT and NTMA. The MFG is considered the "go-to" event for top manufacturing leaders to develop new business relationships and learn from cutting-edge speakers about markets, management, and technical developments.
An innovative technology leader, Uldrich will discuss the latest trends in the manufacturing industry. Uldrich's presentation, "The Big AHA: How to Future-Proof Yourself Against Tomorrow's Transformational Trends, Today" will specifically address the onslaught of technological change that manufacturing leaders and workers will face in the coming years.
Based on Uldrich's two most recent books: "Foresight 20/20: A Futurist Explores the Trends Transforming Tomorrow" and "Higher Unlearning: 39 Post Requisite Lessons for Achieving a Successful Future," the keynote will begin by discussing how continued advances in information technologies, 3D manufacturing, nanotechnology, robotics, radio frequency identification (RFID) technology, the "Internet of Things," Big Data, social networking, and wearable technology will radically transform the field of manufacturing in the decade ahead.
Uldrich will also focus on why these trends will demand unlearning, and discuss why leaders in the manufacturing industry need to embrace the concept of unlearning in order to achieve future success. Uldrich, who has been hailed as "America's Chief Unlearning Officer," will conclude by reviewing specific habits, customs, beliefs and ideas that manufacturing leaders can--and must--unlearn. With the use of vivid analogies and memorable stories drawn from a wide spectrum of industries, Uldrich will ensure his message of unlearning remains with his audience for years to come. A sample of his views on technological trends can be viewed here.
In the past year, Uldrich has addressed hundreds of business groups around the world, including delivering customized keynote presentations to the American Medical Association, the Million Dollar Round Table, the National Association of Manufacturers, Eaton, Invensys, United Healthcare, Boston Scientific, Optus, Bausch and Lomb, the European Association of International Educators and scores of other corporations, associations, and private organizations.
Parties interested in learning more about his other presentations are encouraged to visit his website. Media wishing to know more about the event or interviewing Jack can contact Amy Tomczyk at (651) 343.0660.
Uldrich is a acclaimed global futurist, technology forecaster, best-selling author, editor of the monthly newsletter, The Exponential Executive, and host of the award-winning website, http://www.jumpthecurve.net.