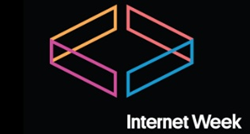 New York, NY (PRWEB) March 04, 2014
Internet Week, which produces Internet Week New York and Internet Week Europe, two of the world's leading technology, business and culture festivals, today unveiled a new brand identity and logo designed by creative brand agency Collins reflecting the openness and energy of both festivals and the Internet itself.
Internet Week New York, founded in 2008, is a global showcase for New York's vibrant tech-based economy. Industry leaders like actor and investor Omar Epps, Netflix Chief Product Officer Neil Hunt, and BuzzFeed CEO Jonah Peretti are among the initial keynote speakers confirmed to headline this year's festival, taking place from May 19-25. More than 45,000 people are expected to attend over 250 panels, Meetups, exhibits, screenings, parties, and more taking place at IWNY Headquarters at Chelsea's Metropolitan Pavilion and other venues across the city.
Internet Week Europe, founded in 2010, draws leaders from across the continent's thriving digital landscape, with tech trailblazers and trendsetters organizing events across London to engage with industry peers and patrons alike, representing the full spectrum of Europe's flourishing digital community. More than 15,000 delegates are expected to attend over 150 events when the event takes place from November 10-14, 2014.
Led by the company's namesake, Brian Collins, Collins has worked with many of the world's leading brands -- including Levi Strauss & Co., CNN, Hershey's, The Walt Disney Company, Coca-Cola, Target, Mattel, IBM and Microsoft -- on brand identity, brand architecture, brand strategy, retail experience and brand innovation.
In a clever and visually arresting nod to the most ubiquitous character mark in HTML, the new Internet Week logo features a converging pair of three-dimensional brackets.
According to Collins, the image on its own represents the limitless space in which Internet Week occurs, while providing an infinitely versatile creative template. The brackets can open to accommodate everything from copy such as the names of keynote speakers or festival themes, to photography, illustrations and more. The Collins team for the project included Dave Frankel (designer) and Ali Ring (account manager).
The new brand identity will span Internet Week's program guides and citywide events maps, major design elements of each location's headquarters and digital and print platforms, including new year-round media projects launching later this year.
"Internet Week's new brand identity reflects how far the festival has evolved since its launch in 2007," said Allison Arden, Managing Director of Internet Week. "The team at Collins has created an exciting brand image for Internet Week that captures our vision for where both the festival and the industry are headed next."
About Collins
Collins is a creative brand agency, using design thinking to weave together brands with people's lives. The firm specializes in complex branding challenges -- specifically brand strategy, identity, retail and digital experience design.
About Internet Week New York
Launched in 2008 in cooperation with the New York Mayor's Office of Media and Entertainment, Internet Week New York is a week-long festival celebrating Internet business and culture. In 2013, more than 45,000 people attended nearly 400 events throughout the city. Sponsors of Internet Week New York 2014 include CBRE (Real Estate Sponsor), Vitamin T, The Trade Desk (Classroom Sponsor), Telescope (Social Engagement Sponsor), Swissnex (Global Start-up City Sponsor), Neustar (Co-Presenting Data Sponsor), SheKnows, MediaCom (Live Feed Sponsor), Quantcast and MediaPost's Omma. Partners include VICE (Content Partner), Architizer (Content Partner), Webby Media Group (Content Partner), Mixcloud (Music Partner) and Design Within Reach (Design Partner). Internet Week New York is co-presented by Made in New York, the Mayor's Office of Media and Entertainment and Crain Communications. The official site for Internet Week New York is http://www.InternetWeekNY.com.
About Crain Communications Inc
An industry leader, Crain Communications Inc is one of the largest privately owned business media companies with 30 leading business, trade and consumer brands in North America, Europe and Asia. The company's 850 employees in 11 locations produce exciting publications, digital products, events, marketing services, custom publishing, lead generation and research and data products to help its millions of readers and clients succeed. Crain Communications took a majority stake in Internet Week in August 2012, taking the reins of day-to-day management while working with the Internet Week team to grow the festival under a shared vision. The company's website is http://www.crain.com.