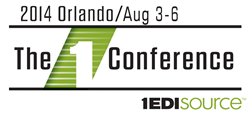 The 1 EDI Source consultants are unbeatable...
Cleveland, Ohio (PRWEB) March 11, 2014
Results are in and 1 EDI Source, Inc., the leading provider of electronic data interchange (EDI) software and Software-as-a-Service (SaaS) solutions, earns top rankings in a recent client survey. The EDI software provider scored a nine out of 10 for its: (1) unbeatable EDI consultants; (2) user-friendly EDI software; (3) highly automated EDI solution; and (4) ability to tailor solutions in response to customer needs.
After years of using 1 EDI Source's EDI Complete software, top industrial equipment manufacturer and designer Mi-T-M Corp. needed a more robust EDI solution to handle its growing number of trading partners. Faced with the decision to migrate to 1 EDI Source's advanced EDI/HQ™ software or shop around for another software provider, the industrial equipment manufacturer chose to upgrade to EDI/HQ.
Mi-T-M has now been using the EDI/HQ software for about a month and is thrilled with the solution's advanced automation, significantly enhanced data visibility features and flexibility in error handling. The company also appreciates the support it has received from 1 EDI Source's EDI consultants.
"The 1 EDI Source consultants are unbeatable," said Mike Klaren, MIS manager at Mi-T-M. "EDI/HQ is a cost-effective, user-friendly solution that allows us to manage our trading partner relationships with confidence."
Invoicing was a pain point for Mi-T-M and the company is particularly impressed with how EDI/HQ has helped automate its entire invoicing process.
"We needed a way to easily view data and make invoice revisions without hunting for information within the software," said Klaren. "After migrating to EDI/HQ, we can now acknowledge invoices much faster and see all errors right from the dashboard, without digging through the software to find problems or EDI data. We are definitely saving time."
EDI/HQ combines EDI translation, data mapping and powerful data management tools to provide enhanced visibility, eliminate the need for manual entry and reduce transaction errors. Many of 1 EDI Source's existing EDI Complete customers are choosing to migrate to EDI/HQ because of the software's advanced features.
"Making the decision to migrate to a new solution is never easy," said Terry Keller, director of technology at 1 EDI Source. "Our main focus is to give our clients the information they need to make the best decision for their businesses, while providing the guidance and support for a smooth transition to the most suitable EDI software solution."
About 1 EDI Source, Inc.
1 EDI Source, Inc. is the leading provider of EDI software and Software-as-a-Service (SaaS) solutions. For more than 20 years, the company has served the needs of businesses ranging in size from single-person operations to Fortune 500 corporations. Clients spanning various industries including health care, manufacturing and retail rely on 1 EDI Source for proven, easy-to-use software, cloud-based solutions, data mapping applications, and comprehensive consulting and outsourcing services. Visit http://www.1edisource.com for more information.
About Mi-T-M
Mi-T-M is a leading designer and manufacturer of high-quality industrial equipment. Founded in 1971 by professional painting contractor AJ Spiegel, the corporation's product line includes cold and hot water pressure washers, air compressors, generators and vacuums and heaters. Clients rely on Mi-T-M for the latest technology in laser cutters, ASME robotic welders and seven-stage powder-coat paint systems. Additional information about Mi-T-M is available on its website at http://www.mitm.com.