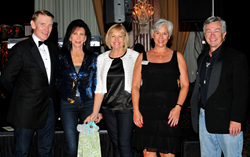 Miami, FL (PRWEB) March 05, 2014
Branches is celebrating its 11th Annual Black Tie & Blue Jeans benefit dinner and auction on Friday, April 4th, 2014 at the Trump National Doral in the beautiful Legends Ballroom. The event will be held from 6 p.m. to 10:30 p.m. and about 400 guests are expected to attend.
The event kicks off with a cocktail reception and a silent auction, followed by dinner and dancing, as well as an appeal and an exciting live auction. All proceeds from the appeal will go towards the Branches' Summer Shade camp program and all donations will be tripled since they are matched $1:$1 by an Anonymous Family Foundation. Summer Shade provides free summer camp to over 300 children and youth and provides a fun and safe environment while offering enriching activities, field trips and academics in order to prevent summer learning loss.
Thank you to the Black Tie & Blue Jeans Benefit Dinner Committee: Chairs Laurie Zapletal and Jonah Pruitt III, and members Eileen Ball Mehta, Sarah Bowlby, Shelley Daniel, Madison Fossen, Juan del Hierro, Sandy Milledge, Debbie Onsgard, Robert Onsgard, David Smith and Rev. Mary Susan Ward. We also appreciate the kind support from our Advisory Committee: Trish & Dan Bell and Sister Jeanne O'Laughlin.
In addition, a huge Thank You to all current Black Tie & Blue Jeans Sponsors:
Trish and Dan Bell
The Batchelor Foundation
BB&T
City National Bank of Florida
Gerson, Preston, Robinson & Co. P.A.
Holland & Knight
PNC Bank
Regions Bank
Charity Services Centers
Ron Book
SunTrust
Bilzin Sumberg
Espirito Santo Bank
FPL
TotalBank
Tickets for the event start at $175 per person. For sponsorship information and opportunities, please contact Isabelle Pike at 305-442-8306 x1002 or ipike(at)branchesfl(dot)org, or visit Branches' home page and click on Benefit Dinner. To purchase your ticket online or make a gift to Branches, please visit http://www.branchesfl.org and click on DONATE.
About Branches
For 40 years, Branches has made a positive impact in the community by delivering on its mission to serve, educate and inspire people through student, family and financial stability services. Branches provides long-term, holistic services for motivated individuals and families. We help people grow deeper and climb higher in life by building a foundation through education so they can achieve their goals and fulfill their potential.