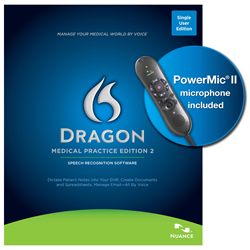 Learn more about the dictation solutions provided by TranscriptionGear and how you can try Dragon FREE!
Concord, OH (PRWEB) March 17, 2014
TranscriptionGear, Inc. announced today their 100th Anniversary as a pioneer in dictation solutions. The company is celebrating their history and a century of success by solidifying their position as an innovator in speech recognition solutions with exclusive live trials of Dragon® Medical Practice Edition 2. In addition, technical support provided by industry experts ensures effective adoption of solutions after purchase and a prompt return on investment.
"No other provider in the industry currently offers this extremely valuable live trial access to Dragon Medical Practice Edition 2 prior to purchase," said Kris Wilson, President of TranscriptionGear.com. "Our goal in letting customers try it first is to address the concerns that medical practitioners have about the software in real-time, highlight the benefits that have made it the leading speech recognition technology and encourage peace of mind with this very important investment."
The introduction of advanced voice solutions like Dragon Medical Practice Edition 2 has demanded a constant evolvement of customer support and technical savvy. Dragon Medical Practice Edition 2 has thousands of advanced time-saving features including regional accent support and customizable macros. Most impressive is the accuracy rating which can exceed 99 percent with the support of expanded medical vocabularies and an innovative speech recognition engine. Physicians using Dragon Medical software have reported a significant ROI in terms of an immediate reduction in transcription costs and the expedited achievement of higher reimbursement levels that result when meaningful use of the EHR is realized.
Successful integration of Dragon Medical Practice Edition 2 is dependent on appropriate installation support and training services. TranscriptionGear.com provides complete healthcare workflow solutions beginning with live demonstrations that showcase proper use of advanced features followed by customized installation, expert configuration, and personalized training for Dragon Medical Practice Edition products. They also offer access to how-to videos and an extensive library of reference materials accessible through their online "Knowledge Base".
The history of TranscriptionGear.com began in 1914 when John Dolbey and Thomas Edison began working together to deliver dictation solutions. Since that time Dolbey & Company, followed by Dolbey Systems, Inc. in 1990 and TranscriptionGear, Inc in 1999, have consistently offered the highest quality of speech recognition and transcription equipment for the legal, professional and medical communities. Their success in the last century has been strongly rooted in an ability to provide technical support, customer assistance and purchasing power not accessible through local electronics stores.
TranscriptionGear.com is also launching a newly designed website later this month which is intended to provide a more enhanced customer experience online.
About TranscriptionGear, Inc.
TranscriptionGear, Inc. is a wholly-owned subsidiary of Dolbey Systems Inc. located in Concord, OH. Our heritage goes back to 1914 when John Dolbey and Thomas Edison worked together to market the very first dictation systems. Since that time we have grown to become the largest independent provider of dictation systems, transcription solutions, speech recognition, equipment and technical support in the United States.
Learn more about the dictation solutions provided by TranscriptionGear and how you can try Dragon FREE.