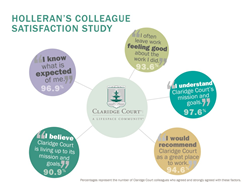 The results of this survey show that our colleagues are engaged and passionate, and their efforts make working and living here such a rewarding experience.
Prairie Village, Kansas (PRWEB) March 04, 2014
Claridge Court senior living community scores well above industry benchmarks for colleague satisfaction in a recent survey by Holleran, a national leader in senior living research and assessment. Claridge Court ranked in the top 4 percent of the 309 senior living communities surveyed in 36 states of the U.S., with 45 of 57 factors scoring in the 90th percentile nationwide.
"We're incredibly proud of our staff here," said Robert Salierno, executive director of Claridge Court. "The results of this survey show that our colleagues are engaged and passionate, and their efforts make working and living here such a rewarding experience."
Out of the 142 colleagues at Claridge Court, 130 completed the survey in October 2013. That 91.5 percent is well above the Holleran average of 78.3 percent. The survey measured areas including work climate, communication, teamwork, training, employee expectations, opportunities for advancement and overall satisfaction. Claridge Court scored "significantly above" the Holleran benchmark in 53 of the 57 factors assessing the different areas.
Claridge Court also received Holleran's "Highest Honors" based off the survey results. To be considered for Highest Honors, a community has to achieve "overall satisfaction" in the 70th percentile or higher, score significantly above the Holleran benchmark in 44 factors, rank in the 90th percentile of all senior living communities nationwide, and also have a response rate of at least 70 percent.
Holleran is a consulting and research company that has specialized in senior living for more than 20 years. The organization conducts various surveys throughout the year, mostly on trending topics across the senior living field.
Claridge Court was also awarded a five star rating from U.S. News & World Report, in their annual list of Best Nursing Homes for 2014. The rating was based on scores in health inspections, nurse staffing and quality measures.
ABOUT CLARIDGE COURT
Claridge Court is located at 8101 Mission Road in Prairie Village, Kan., across from the Corinth Square Shopping Center. The Life Care community provides senior adults with a unique lifestyle experience and a variety of residential options, including 132 maintenance-free apartment homes. Residents also enjoy a full range of services and amenities, such as a café, library, hair salon, wellness center, game room and valet service. For more information, please call (913) 383-2085 or visit http://www.ClaridgeCourt.com.
ABOUT LIFESPACE COMMUNITIES
Founded in 1976, Lifespace Communities, based in Des Moines, Iowa, is a not-for-profit corporation that has grown to operate 12 continuing care retirement communities in seven states, serving more than 5,000 residents and employing 2,700 team members. Communities are located in Iowa, Minnesota, Kansas, Illinois, Nebraska, Pennsylvania and Florida. The organization is recognized by the LeadingAge Ziegler Top 100 as the seventh largest not-for-profit senior living provider system in the country. For more information about Lifespace and its communities, visit http://www.LifespaceCommunities.com.