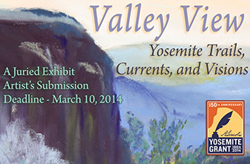 "All told it promises to be a fabulous year. Please join us!" says Jon Bock, President, Sierra Art Trails.
Oakhurst, CA (PRWEB) March 09, 2014
Sierra Art Trails Presents... "Valley View - Yosemite Trails, Currents and Visions" is a juried exhibit focused on Yosemite National Park, in particular Yosemite Valley and the Mariposa Grove of giant sequoias, the regions designated as protected by the Yosemite Land Grant in 1864. The exhibit is presented in association with the 150th Anniversary Celebration of the Yosemite Grant, legislation drafted in order to preserve and protect Yosemite Valley and the Mariposa Grove for public use, signed into law by Abraham Lincoln in 1864.
The show will feature works that address the history, present state, and possibly future of Yosemite National Park. Works will address historical subjects, current issues, and predictions or speculations on the future of the Park, including folklore or mythology.
The exhibit will open to the public at Stellar Gallery in Oakhurst on April 5th, 2014. The show is a juried exhibit open to artists worldwide, working in any media. The submission deadline is March 1st, 2014. Learn more at http://www.sierraarttrails.org/exhibits.
Visitors come from not only California but beyond, and are truly excited to join us for the three day annual event. Yosemite's magnificent waterfalls, granite escarpments, and redwood forests have earned the park a reputation as one of the most spectacular natural areas on earth. Yosemite draws visitors from all over the world, and has inspired artists, writers, and the public for nearly two centuries.
"All told it promises to be a fabulous year. Please join us!" says Jon Bock, President, Sierra Art Trails.
Sierra Art Trails is a 501c4 Non-profit corporation dedicated to promoting working artists and artisans, fostering art education, and building a reputation for our area as an arts destination. Each year, our organization produces the Sierra Art Trails Open Studio Tour and a number of other unique exhibits and events. Art Trails raises funds for student scholarships, public arts, awards for artists and art organizations, and a unique student sponsorship program. Through these activities we seek to increase public awareness of the importance of the arts in our lives, and the role that artists play in building and maintaining a vibrant culture.
To learn more about Sierra Art Trails and our activities visit http://www.SierraArtTrails.org or call Stellar Gallery at 559-658-8844.
###