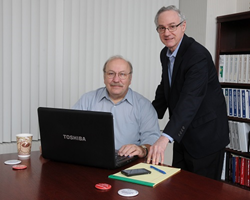 "My clients were very pleased to have Premier come and speak to them about Social Security," said Chris McIntire of McIntire Retirement Services in Perrysburg, Ohio. "I like the fact that Premier has ongoing webinars and in-person training available."
CINCINNATI, Ohio (PRWEB) March 06, 2014
Premier Social Security Consulting of Cincinnati is partnering with ClientFirst Financial of Santa Cruz, Calif., to educate financial advisors nationwide on Social Security and assist with marketing their Social Security services.
ClientFirst provides Social Security training and marketing tools to financial advisors who need to help clients and prospects understand Social Security and maximize their benefits.
Frank Horath, founder and principal at ClientFirst and a practicing independent financial advisor, began to counsel other financial advisors on ways to help them maximize Social Security benefits for their clients about four years ago.
Horath said an attractive part of working being involved with Premier Social Security Consulting is the certification it provides through the National Social Security Advisor (NSSA) program.
"There are Social Security income planning training competitors, but they don't have certification— many sell just books, or just software," said Horath. "We don't want to do everything ourselves. We want to take the best of the best: attain Social Security knowledge and NSSA certification, plug advisors into effective Social Security income maximization software, and then help financial advisors integrate effective marketing and practice management to help them build their businesses. And if the advisors need to, they can go back to Premier for ongoing support."
"People are finding out about NSSA from all over the country," said Marc Kiner, CPA, and partner in Premier Social Security Consulting. Kiner and Jim Blair, a 35-year Social Security Administration employee, teach the NSSA program nationwide.
"We have expertise in teaching and ClientFirst specializes in helping financial advisors market their businesses," said Kiner. "We continue to grow our relationships nationwide."
"On our website we have some Social Security education material, but Jim and Marc do a more detailed, comprehensive job than we do," said Horath. "They provide a much more efficient way to learn from the experts and run cases with clients on Social Security maximization. They encompass Social Security income planning fundamentals and take you to a place where you can get off to the right start. Then ClientFirst helps train advisors to transition a Social Security prospect into a long-term financial planning client."
Premier has educated 400 professional advisors across the nation so far and aims to educate a total of 5,000 in 2014, said Kiner.
Kiner and Blair teach certified public accountants, insurance agents, financial advisors, enrolled agents and other professional advisors how to navigate Social Security rules and regulations in order to help clients maximize Social Security income.
The National Social Security Association, LLC then tests students and certifies those who qualify as National Social Security advisors.
Premier is searching for professional advisors nationwide to promote the NSSA program in their home cities in exchange for 50 percent of attendance receipts.
Financial advisors who have gone through NSSA training and earned certification praised Premier's content and teaching style.
"My clients were very pleased to have Premier come and speak to them about Social Security," said Chris McIntire of McIntire Retirement Services in Perrysburg, Ohio. "I like the fact that Premier has ongoing webinars and in-person training available for advisors. Jim and Marc's knowledge is very comforting when I am giving a client advice on options prior to filing for Social Security."
"I learned a ton of new information and feel much more confident in the approach and conversations I can have with my clients going forward," said Jesse Travis of Fusion Advisors in San Antonio, Texas. "Premier did a great job of not making the class a "nap session" by making the material relevant, engaging and providing just enough material that I wasn't overwhelmed. This is a wonderful program and more financial professionals need to take advantage of it."
The need for professional advisors to learn about Social Security is huge, said Kiner. Ten thousand people turn 65 years old each day in the U.S. The opportunity to help baby boomers understand their Social Security options should not be understated by advisors, he added.
Cost of the $795 NSSA course and certification includes a year of continuing support through monthly webinars, assistance with client questions and access to PowerPoint presentations through Premier Social Security Consulting.
A one-day NSSA class on Social Security, minus an NSSA certification test afterward, costs $395. Anyone can attend the education portion of the NSSA program.
Classes are scheduled for March 14 in Cincinnati; March 18 in Miami, Fla.; March 19 in Sarasota, Fla.; and March 20 in Orlando, Fla; and March 24 in Raleigh, North Carolina. NSSA webinars are set for March 13, March 22 and April 17.
April and May classes will be held: April 21 in Grand Rapids, Mich.; April 22 in Ann Arbor, Mich.; April 23 in Farmington, Mich.; May 5 in Kansas City, Mo.; May 23 in Cincinnati; May 28 in Atlanta, Ga., and May 29 in Indianapolis.
Kiner said he would like to provide more NSSA programs in cities across the country this year in order to reach a larger percentage of professional advisors who work with baby boomers. For information on becoming an NSSA promoter or educator, contact Kiner at mkiner@mypremierplan.com or (513) 351-5707.
For more information about the National Social Security Advisor certification program, go to http://www.nationalsocialsecurityassociation.com and http://www.premiernssa.com.
# # #
Contact: Marc Kiner
mkiner(at)mypremierplan(dot)com
(513) 351-5707
About Premier Social Security Consulting, LLC:
Premier Social Security Consulting, LLC in Cincinnati educates professional advisors nationwide on the Social Security system so they can help their clients maximize lifetime Social Security benefits. Partners Marc Kiner and Jim Blair teach the National Social Security Advisor (NSSA) certification program.