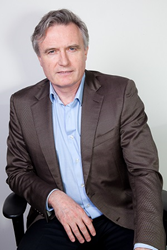 There is tremendous growth potential for supplier finance in this market and we are constantly increasing the scope of our working capital initiatives in the Asia Pacific region and beyond. ~ Eugene Buckley
Atlanta, GA (PRWEB) March 05, 2014
PrimeRevenue, Inc., the industry leader in global Supply Chain Finance solutions optimizing cash flow for organizations today announced that Eugene Buckley, vice president and general manager Asia Pacific was named to the Supply & Demand Chain Executive magazine's 2014 Supply Chain Provider "Pros to Know" list.
In its 14th year, the Supply & Demand Chain Executive Provider "Pros to Know" award recognizes individuals from software firms and service providers, consultancies or academia, who have helped their supply chain clients or the supply chain community at large prepare to meet industry challenges. Mr. Buckley is managing the fastest growing region of PrimeRevenue's global operations with over $4.5 billion in trade flows processed on PrimeRevenue's Supplier Finance platform in 2013 in Asia alone.
The Supplier Finance programs run by PrimeRevenue allow buying organizations to extend their payment periods towards their suppliers, while allowing them to shorten their collection period and achieve ongoing working capital optimization. Mr. Buckley has worked closely with leading organizations in the region helping them understand the value that Supply Chain Finance programs can provide for both buyers and suppliers, and has led numerous implementations by successfully navigating through the added complexities in terms of funding and supplier onboarding.
"Businesses have a powerful opportunity to expand their relationships with their trading partners in Asia Pacific by offering Supply Chain Finance solutions, particularly in wide-spread trade flow industries such as retail, automotive and electronics," said Eugene Buckley, vice president and general manager Asia Pacific. "During recent years, the focus has moved from the physical supply chain to the financial side with suppliers having insufficient working capital and having poor access to credit opportunities from local banks. Across programs implemented by PrimeRevenue in Asia, more than 60% of suppliers signed up for Supply Chain Finance programs and availed themselves of financing immediately. There is tremendous growth potential for Supplier Finance in this market and we are constantly increasing the scope of our working capital initiatives in the Asia Pacific region and beyond," added Buckley.
About Supply & Demand Chain Executive
Supply & Demand Chain Executive is the executive's user manual for successful supply and demand chain transformation, utilizing hard-hitting analysis, viewpoints and unbiased case studies to steer executives and supply management professionals through the complicated, yet critical, world of supply and demand chain enablement to gain competitive advantage. Visit us on the Web at http://www.SDCExec.com.
About PrimeRevenue, Inc.
For organizations that view their supply chains as a strategic asset and are seeking to increase supply chain efficiency, PrimeRevenue has the answer. PrimeRevenue provides cash flow to more than 13,000 buyers and suppliers through their OpenSCi platform which offers the control and flexibility required by organizations to optimize their working capital and reduce costs and risks throughout the financial supply chain. Headquartered in Atlanta, PrimeRevenue also has offices in London, Paris, Frankfurt and Prague, as well as in Melbourne and Hong Kong, and operates some the largest supply chain finance programs for clients around the globe. For more information or to contact us, please visit http://www.primerevenue.com.