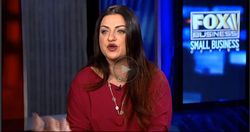 Westlake Village, CA (PRWEB) March 05, 2014
CorpNet.com, a leading online business document filing company that helps entrepreneurs start a business and keep a business in compliance, announced that its co-founder and CEO, Nellie Akalp, recently visited the set of FOX Business in New York to discuss some of the most common tax mistakes made by entrepreneurs and small businesses.
A video of the segment can be found here: http://goo.gl/e33NMK
"Filing business taxes can be a real learning curve for new business owners. Too often, some common mistakes are committed, and at best these lead to money left on the table; and at worst, costly penalties or other legal repercussions," said Akalp.
In the segment, Akalp discussed the need to pay quarterly estimated taxes; keeping track of your expenses; not being scared away from taking the home office deduction if you're legally entitled to one; and sending 1099 forms to any contractors, attorneys, or individuals who performed work totaling more than $600 for the year.
Akalp also advised that the most important tax move was selecting the right business structure, as the choice between a sole proprietorship, LLC, or corporation can have a major impact on the amount of taxes paid.
She also let new business owners they could get off on the right foot by contacting CorpNet.com for a free business consultation.
Through CorpNet, Nellie and her husband Philip Akalp have empowered thousands of entrepreneurs to start their own business. As an online legal document filing service, CorpNet helps small business owners form an LLC or incorporate a business in order to start and protect their new business ventures the right way.
CorpNet.com is known for its customer-centric philosophy, developing a range of free, value-add tools to help small business owners thrive in today's economy. CorpNet customers rave about the company's friendly, helpful service, including five-star CorpNet reviews on TrustLink.
About CorpNet.com
CorpNet.com is an online business document filing service that provides new and existing business owners with the most comprehensive, cost-effective services when it comes to starting, protecting, and managing a business. Through its website, CorpNet.com provides business filing services required for a variety of business needs such as: incorporate online or form a Limited Liability Company (LLC), file a DBA, Doing Business in Multiple States (Foreign Qualifications), close a business (Dissolutions), Registered Agent Representations, Trademark Search and Registrations, and Corporate Compliance services and supplies for all 50 states.
Founded by experienced entrepreneur/attorney husband and wife team, Philip and Nellie Akalp, CorpNet.com is a private company based in Westlake Village, CA. For more information, please visit http://www.corpnet.com or follow @CorpNet on Twitter.