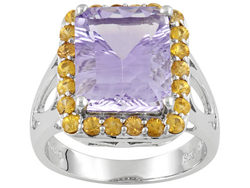 Selecting gemstones with color creates vibrant, fresh looks for spring.
Knoxville, Tenn. (PRWEB) March 05, 2014
Jewelry Television® (JTV) announced that Emmy® award-winning stylist and author, David Zyla, will co-host 'Colors of Spring' on March 7th. Zyla will provide expert commentary on Pantone's® Color of the Year, Radiant Orchid, and discuss how it translates in the world of fine jewelry and gemstones. Zyla, the best-selling author of The Color of Style and Color Your Style, will help showcase gemstones that emanate the brilliance of Radiant Orchid.
"Radiant orchid is a gorgeous shade of purple that conveys confidence and joy," noted Zyla. "The fuchsia and pink undertones are representative in many gemstones that can easily be incorporated into fashion. Selecting gemstones with color creates vibrant, fresh looks for spring."
JTV's 'Colors of Spring' programming runs March 6-10 and will feature gemstones in the Radiant Orchid color family including:

Orchid Amethyst
Orchid Strontium
Purple Fluorite
Aristata Ethiopian Opal™
Mystic Topaz
Violet Camassia Strontium Titanate™
"We've been seeing Radiant Orchid emerge as a theme across many categories including apparel, handbags, home décor and cosmetics," explained Jill Johnson, vp of marketing for JTV. "Many consumers don't know that gemstones come in every color of the rainbow, so this is a perfect opportunity to add a splash of Radiant Orchid to your jewelry box."
According to Pantone®, "Radiant Orchid blooms with confidence and magical warmth that intrigues the eye and sparks the imagination. It is an expressive, creative and embracing purple – one that draws you in with its beguiling charm."
For more information on JTV's 'Colors of Spring' event, check local listings or visit JTV's program guide.
About Jewelry Television®
Jewelry Television® (JTV) is one of the largest multichannel retailers of jewelry and gemstones in the U.S. appealing to fashion-conscious women, jewelry-making enthusiasts and private collectors. The privately-held shopping network broadcasts high definition programming, 24 hours a day, seven days a week, to more than 80 million U.S. households. JTV.com offers the most comprehensive jewelry and gemstone Learning Library on the internet, and is the third largest jewelry website according to Internet Retailer's Top 500 Guide for 2012.
###