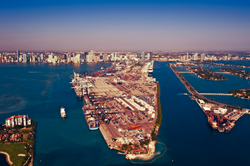 Sawtelle, CA (PRWEB) March 05, 2014
24-7 Van Lines - a California based moving company that provides local, state, national and international moving services for businesses and families – is pleased to announce their newly launched set rates for Miami long distance movers. The rates will include estimated, written and binding flat rates for any customers seeking to relocate cross the country. The goal of offering these binding and written estimates is to assure customers that the price they are quoted will be exactly the price that they pay upon their items being delivered and the final bill be tendered.
Long distance movers already face plenty of obstacles when moving, much less the need to facilitate logistics for their moving service. Since moving companies usually just transport household goods, movers often face a slew of other associated expenses involved in transporting their family members, pets and vehicles to their new destination. Most moving companies offer non-binding and binding estimates. The difference being that non-binding estimates can increase by as much as 10 percent in cost after the fact, often adding a substantial amount of increased cost to the move. With 24-7 Van Lines' unbeatable binding rates, long distance movers rates are precise, and movers can now know exactly what they will pay for moving services.
"At 24-7 Van Lines, our goal is to provide the highest quality moving services for our customers at the lowest possible rates," stated company spokesperson, Mark Tanning. "We are pleased to announce or binding packages, which offer a written and binding estimate for long distance movers rates for the many people coming and leaving Miami Florida. We strongly feel that this transparent approach is the only way to efficaciously offer our services to customers."
About
24-7 Van Lines is a California based moving company that provides local, state, cross country and international commercial and residential moving services. They have recently announced the launch of flat rate and binding long distance movers rates. The company will be issuing estimates that are written and binding for their long distance moving customers, so the customers can know exactly what the cost of their move will be.
You can learn more about their services by visiting 24-7 Van Lines online.
Press Contact:
Mark Tanning
24-7 Van Lines
323-920-0048