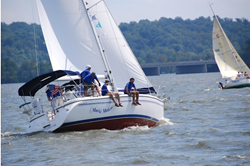 River Dunes - 2014 Best Boating Community of the Year
New Bern, North Carolina (PRWEB) March 05, 2014
River Dunes is set to host the kick off festivities for another important fundraising event, raising money to help families fight cancer. On March 15, 2014 property owners and the local community will gather together at the River Dunes Harbor Club to synchronize their efforts for the upcoming 2014 Leukemia Cup Regatta scheduled June 6th through 8th in Oriental North Carolina, a seaside town nicknamed the Sailing Capital of North Carolina where sailboats outnumber residents 3 to 1.
River Dunes in Oriental North Carolina is a classic example of a master-planned community demonstrating such care and is a two time winner of Real Estate Scorecard's Bliss Award™ for Best Boating Community of the Year. It's all about the people who have come from all over the US, found a home in River Dunes, created a neighborhood and community, and committed time and resources to giving back to others.
As Real Estate Scorecard peeled back the layers, they learned more about the significant charitable events River Dunes property owners participate in. The common thread Real Estate Scorecard sees are events centered around health and wellness, a shared love of boating, and a sense of commitment.
Leukemia Cup Regatta
The fourth annual Leukemia Regatta Cup will be held June 6-8, 2014 at River Dunes. One of River Dunes property owners was familiar with Regattas in other locations and suggested that the the setting for an eastern NC Regatta would be perfect at River Dunes. This North Carolina boating community is located off the Pamlico Sound at the mouth of the Neuse River. Grace Harbor Marina at River Dunes is a protected world-class facility with a beautiful Harbor Club and guest boater facilities. More than 50 boats participated in the two day sailing competition last year that included a shore party with dinner, dancing and live and silent auctions. The involvement of River Dunes owners and the local boating community raised $121,000 for lifesaving research and patient services, bringing help and hope to blood cancer patients and their families.
Bike MS Historic New Bern Ride
Bike MS is another fundraising event River Dunes property owners are actively engaged in whether they are participating or helping staff the event. The Historic New Bern Ride is a two-day cycling event that cruises through three counties with miles of roads that allow every level of cyclist to participate and enjoy their choice of a 30, 50, 75, or 100-mile route option each day. Riders who choose the 75 or 100-mile stretch enjoy a stocked lunch and rest stop at River Dunes along the journey. The River Dunes Roadies are the community's spirited cycling team that has grown in numbers and fundraising efforts each year.
Girls On the Run of Pamlico County
One River Dunes property owner brought her professional experience as a high school Track and Field and Cross Country coach to Girls on the Run of Pamlico County. She began teaching (English) and coaching Track and Field and Cross Country 30 years ago, prior to building a custom home in River Dunes and moving in almost 9 months ago. Once settled, she has put her energy and experience to work volunteering with Girls on the Run of Pamlico County.
Girls on the Run is a transformational physical activity based positive youth development program for girls in 3rd-8th grade. Girls on the Run teaches life skills through dynamic, interactive lessons and running games. The 12 week program culminates with the girls being physically and emotionally prepared to complete a celebratory 5k running event. The goal of this international program is to develop confidence through accomplishment while establishing a lifetime appreciation of health and fitness. As this volunteer shared with us, seeing the transformation and self-confidence build in the young women is remarkable.
More About River Dunes
River Dunes is a North Carolina boating community encompassing 1,345 acres. Amenities include:
Private Harbor Club overlooking the marina with fine and casual dining
Grace Harbor Marina with easy access to the ICW and NC Outer Banks
Deepwater Boat Slips with state of the art amenities
Outdoor Swimming Pool overlooking the marina
Fireside Hot Tub and Cozy Cabanas
Fitness Center with Steam Showers
Tennis Courts
Canoes, Kayaks, Stand-up Paddleboards and Bicycles
Nature Preserve with Paddling and Hiking Trails
Guest Cottages
Riverside Chapel
River Dunes homes for sale range from the $400K's to well over $1 million. Lots for sale at River Dunes start in the low $100K's. Custom homes plans and construction are provided by four experienced Master Builders. To learn more about River Dunes, call 800.975.9565.
About Real Estate Scorecard:
Real Estate Scorecard writes unbiased real estate reviews providing in-depth information about popular gated communities in Florida, Georgia, North Carolina, South Carolina and Tennessee, all in an effort to help people discover where to retire in the Southeast.
Website: http://realestatescorecard.com