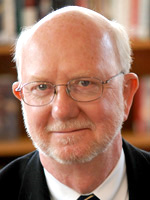 "I'm honored to accept this appointment," said Dr. Anderson. "I look forward to working closely with the Trustees and Emeriti's President to monitor and assess strategic initiatives that will help further position the organization as an industry leader."
New Windsor, NY (PRWEB) March 06, 2014
The Board of Trustees of Emeriti Retirement Health Solutions, a non-profit educational consortium providing defined contribution retiree healthcare benefits, elected Dr. David Anderson as a Trustee effective January 1, 2014.
Dr. Anderson, the 11th President of St. Olaf College, earned his Bachelor of Arts (English) degree at St. Olaf College in 1974. He went on to earn his Doctorate in English at Boston College in 1978. Dr. Anderson also attended the Institute for Educational Management at Harvard University in 2000, and the Center for Dispute Resolution at Capital University, training in mediation, in 2005.
"David has been a steadfast supporter of the organization, serving as Chair of Emeriti's Advisory Council," said Timothy A. Hultquist, Chairman of the Board of Trustees. "The Board enthusiastically welcomes David and we are confident that his expertise and extensive experience in higher education will help further the mission of Emeriti."
"I'm honored to accept this appointment," said Dr. Anderson. "I look forward to working closely with the Trustees and Emeriti's President to monitor and assess strategic initiatives that will help further position the organization as an industry leader."
Dr. Anderson's academic career began when he joined St. Olaf College from 1978 to 1980 as assistant professor of English and tutor in the Paracollege. He served as a post-doctoral fellow in English at the University of Kansas from 1980 to 1981. From 1981 to 1993 his positions at Texas A&M University included director of undergraduate studies in English. His other academic positions include Florida Atlantic University from 1993 to 1997 as professor of English and associate dean of arts and humanities; Luther College from 1997 to 1999 as vice president for academic affairs and dean of the college; and Denison University from 1999 to 2006, as provost and professor of English. Dr. Anderson has been president of St. Olaf College since 2006.
"I am thrilled that Dr. Anderson has agreed to join the Board," said David P. Trainor, President of Emeriti. "His knowledge of our program and his deep understanding of the needs of the institutions we serve will be great assets to Emeriti."