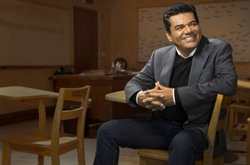 I believe that, for me, the more honest that I can be in the creation of it, I think the funnier the stuff is.
(PRWEB) March 04, 2014
During a conference call with a group of reporters, TVRage.com had the opportunity to talk with George Lopez. Not only did he open up about his new FX show, 'Saint George,' but he also chatted about why he wanted to return to TV and how the comedy emulates his life.
Here's an excerpt from the conference call:
So, just how does 'Saint George' differ from his other sitcom work, like 'George Lopez'? As Lopez told TVRage, "Well, first of all, one was a network family show on ABC and this one is a cable family show on FX, so there's no real similarity as far as, you know, we had a guy who was a standards of practice guy on ABC. He would always run down and tell us what we could say, what we couldn't say, or to cover up a logo, and you couldn't do this, you couldn't do that.
"And on FX, in this show, the humor is a lot edgier…this show mirrors probably where we are in society right now. It's a little bit edgier. It's diverse. 'Modern Family' succeeded with having a very diverse group of actors, not necessarily ethnicity-wise, but also behavior and who they were in life, so I think this has a lot of the elements of that. I think people would enjoy this show. It might be a little shocking with some of the stuff, but FX their slogan is 'Fearless.' I wouldn't say this is necessarily the craziest show on TV, but it is a lot different than my first one."
Why now? It's been seven years since 'George Lopez' concluded, so what made Lopez head back to the small screen? The big decision came while filming 'The Spy Next Door' with Jackie Chan. "It [the movie] was in New Mexico and it was freezing. And half of my trailer was warm and half of it was cold, but the cold part was the part I got dressed in," Lopez told reporters. "So in that trailer while I was waiting for Jackie Chan to beat 15 guys up in a warehouse I decided that maybe waiting around in a trailer wasn't particularly good for me…I always liked TV. I like the immediacy of TV. I think it's an honor to be on TV and I'm excited about getting another opportunity with such a great group of actors."
'Saint George' premieres Thursday, March 6 at 9/8c on FX.