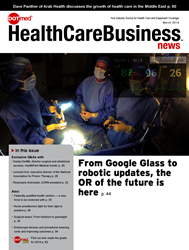 New York, New York (PRWEB) March 06, 2014
Featured Stories:
*Federally Qualified Health Centers –Fact and Fiction*
Congressman Gene Green from Texas' 29th congressional district, along with spokespeople from the New York State Health Foundation, National Association of Community Health Centers and policy research institute Mathematica help set the story straight. http://www.dotmed.com/news/22941
*Nurse Practitioners Fight For Their Right to Practice*
Even as the need grows, opposition stays strong. Industry veterans from Western University of Health Sciences, American Academy of Family Physicians and the American Association of Nurse Practitioners weigh in. http://www.dotmed.com/news/22895
*DOTmed 100 for 2014* – to find out who's in for this year, visit the list here: http://www.dotmed.com/certified/top100.html.
Industry Sector Reports:
Surgical Lasers –
Industry experts from University Hospitals Ahuja Medical Center, Center for Minimally Invasive and Robotic Surgery, University Hospitals Parma Medical Center, SouthWest Urology, MD Buyline, American Society for Laser Medicine and Surgery and Lumenis provide some background and updates for the sector.
OR Suites –
From Google Glass to robotic updates, the OR of the future is here. And here to talk about it are individuals from ECRI Institute, North Carolina Orthopaedic Clinic, Philips Healthcare, Intuitive Surgical, Siemens Healthcare and GE Healthcare.
Endoscopy –
Doing more for less. Health care professionals from Virginia Mason Hospital, Seattle Medical Center, the Skull Base Institute, Olympus and Boston Scientific talk about how it's possible.
This Month's Exclusive Q&A Articles:
Kandy Dewitt, HealthPark Medical Center
Leonard Arzt, executive director of the National Association for Proton Therapy
Rosemary Schroeder, president, AORN
Also in the Issue:
*IT Matters – Take charge or charge it?*
Points to ponder regarding in-house versus outsourcing.
*The Future Of . . . *
Showcases the predictions of leading industry experts and their thoughts about where their sector will be in five to ten years. This month, we feature Dave Panther, director of Arab Health. Panther discusses the growth of health care in the Middle East. http://www.dotmed.com/news/22916
About DOTmed
DOTmed.com, Inc. is the leading public medical equipment marketplace and the leader in online medical equipment auctions with more than 10 years' experience. With more than 350,000 listings and 220,000 registered users, DOTmed is revolutionizing the medical equipment marketplace through innovation, access and programs that serve buyers and sellers alike. Visit DOTmed to learn more. DOTmed HealthCare Business News is a monthly print publication delivered to top health care executives every month with a BPA audited circulation of 31,000. It is also available on the iPad. Search "DOTmed" on the App Store to download.