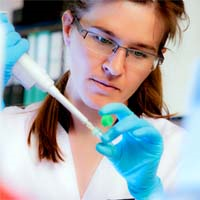 S-Fas had better sensitivity in...bladder cancer in comparison with cytology
Raleigh, NC (PRWEB) March 14, 2014
A study published in the Asian Pacific Journal of Clinical Oncology and detailed by Cancer Monthly suggests that a compound found in urine could be used to detect early bladder cancer as well or better than current tests.
Bladder cancer occurs in about 30 in 100,000 people in the US, but is slightly higher in diabetics, especially if they have taken the drug Actos. As with most cancers, early detection of bladder cancer is critical for the best outcomes. Traditional diagnosis involves cystoscopy, an examination of the inside of the bladder with a special camera, along with microscopic examination of cells in the urine (cytology).
But Indian researchers say cytology may not be sensitive enough to detect bladder cancer in its earliest stages and cystoscopy can be costly and stressful. Their new study of 117 people with transitional cell carcinoma (TCC), the most common form of bladder cancer among diabetics, claims to have found a less invasive but effective way to find the cancer earlier.
The team compared the results of urine cytology and an assay test for urine levels of soluble Fas (s-Fas) in both healthy and bladder cancer patients. S-Fas is a cell-surface receptor involved in apoptosis (programmed cell death) and is frequently overexpressed in bladder cancer. The researchers found that the urinary s-Fas level was about 88% accurate in detecting cases of bladder cancer, compared to just 66.67% with cytology.
"S-Fas had better sensitivity in higher grade and both primary and recurrent cases of urinary bladder cancer in comparison with cytology," the doctors report. Out of 15 bladder cancer cases, the s-Fas test caught the cancer in 13 cases, whereas cytology revealed only 12 of the cases.
In an account of their findings in the Asian Pacific Journal of Clinical Oncology, the team concludes that urinary s-Fas "can be used as a non-invasive diagnostic biomarker for TCC of urinary bladder, both for primary and recurrent disease." (Srivastava, AK, et al, "Clinical utility of urinary soluble Fas in screening for bladder cancer", February 27, 2014, Asia Pacific Journal of Clinical Oncology, Epub ahead of print, http://www.ncbi.nlm.nih.gov/pubmed/24576318)
The incidence of bladder cancer among diabetics has been found to be slightly higher in men than in women and higher still in people who have taken Actos, a once popular diabetes drug. In 2011, the makers of Actos added an increased risk of bladder cancer to their list of warnings. Actos is no longer prescribed in several European countries because of its link to bladder cancer.
For over ten years, Cancer Monthly has been the only centralized source of cancer treatment results. Patients can see the actual survival rate, quality-of-life indicators, and other key data for approximately 1,500 different cancer treatments. Cancer Monthly provides timely and ground-breaking news on the causes, diagnoses and treatments of the most common cancers including bladder, brain, breast, colon, kidney (renal), liver, lung (NSCLC), ovarian, prostate and rectal cancers, melanoma, mesothelioma, and non-Hodgkin's lymphoma. Written for patients and their loved ones, Cancer Monthly helps families make more informed treatment decisions.