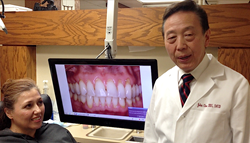 Many dentists and periodontists are now adopting Chao Pinhole Gum Rejuvenation™, for restoring a receding gum line to a normal, healthy position.
Los Angeles, CA (PRWEB) March 04, 2014
Dentist and inventor Dr. John Chao reports that the latest training course for Chao Pinhole Gum Rejuvenation™ scheduled for March 7-8, 2014 will host forty-eight dentists and periodontists coming from across the United States, Canada, the U.K., South Korea, Saudi Arabia and Romania. "To date, nearly 300 dental professionals worldwide have been certified to perform the Chao Pinhole Gum Rejuvenation™ treatment for gum recession," says Dr. Chao.
Gum recession affects people of all ages.
"Gum recession, or receding gums are found in at least half of all adults between the ages of 18 and 65 in the U.S. and in 80% or more of U.S. adults over 65," says Dr. Chao. "A leading cause of gum recession in all ages is improper brushing of the teeth, or over-brushing," he says.
Why treat gum recession?
"There are different reasons why people should have corrective treatment for their gum recession," says Dr. Chao. "Some are motivated by the unsightly appearance of their receding gums, however there are other compelling reasons for treatment including hypersensitivity to cold temperatures due to exposed root surfaces and decay at the receded areas," he says. "However, the main reason gum recession should be treated is that when the gums recede, so does the bone that supports the teeth. The more the gums shrink, the more bone is lost, increasing the chances of eventual tooth loss."
If this is true, why didn't my dentist tell me sooner that I am having a problem?
"Traditionally, the treatment for gum disease has been gum grafting surgery, a rather invasive procedure that most dentists would hesitate to recommend unless a patient's gum recession has progressed to a clinically unacceptable stage," says Dr. Chao. "The advantage of gum grafting is that it is considered to be the best way to predictably stop gum recession. The downside is that there is often such a level of pain, especially from the palate from traditional grafting that patients may require prescription pain medicine for up to three weeks. Swelling and recurrent bleeding could also occur in some cases."
Dental professionals are adopting a new, minimally invasive alternative to gum grafting.
"Many dentists and periodontists are now adopting Chao Pinhole Gum Rejuvenation™, for restoring a receded gum line to normal position," says Dr. Chao. "This procedure does not require cutting, stitching or gum grafting. The patented method allows the doctor to lift and loosen the gums through a tiny 'Pinhole' with specially designed, patented instruments. Then these instruments are used to lift the gums over the receded part of the tooth. Small strips of collagen, the same kind of material used for collagen injections, are inserted under the gums to stabilize the gums, and that completes the procedure," says Dr. Chao. "Patients can return to normal activities almost immediately with virtually no pain in the majority of cases. That's a major benefit for patients with gum recession and the dental professionals who care for them," says Dr. Chao.
"My mission is to teach general dentists and periodontists to perform Chao Pinhole Gum Rejuvenation™ in a responsible way so that each patient may receive the best possible treatment for gum recession," he says.For more information visit http://www.pinholegumrejuvenation.com or call 888-603-2953.