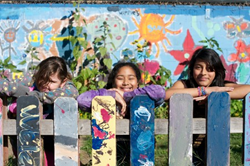 We thank Children's Obesity Fund for their generous contribution to our efforts.
(PRWEB) March 11, 2014
Long Beach's New City Public Schools expressed its appreciation to Children's Obesity Fund, for supporting the renovation of the school's playground. The 10,000 square foot playground -- including a sports field, jungle gym and garden -- provides a recreational area for outdoor activities for the 430 students of New City Public Schools.
"We provide a healthy and intimate learning environment in which community building is valued over competition, and physical activity is a critical component of a well-rounded education," says Sabrina Bow, Executive Director of New City Public Schools. "We thank Children's Obesity Fund for their generous contribution to our efforts. With their help, the playground will be a wonderful and vibrant resource for hundreds of children.
The school's current playground is patchy and difficult to maintain due to weather changes that result in dust or mud. New City Public School's goals for the playground renovation are to create a wide and suitable space for organized sports such as soccer and tag, build a school garden to teach horticulture, and restore the jungle gym. Moreover, because the field will be covered with synthetic turf, the project will conserve water resources in the long run, as well as mitigate allergens, dust and mud.
The New City Public Schools (http://www.newcityps.org) was authorized by the Long Beach Unified School District in 2000 as a public, charter school. Located just north of downtown Long Beach, the school's curriculum for transitional kindergarten through eighth grade students emphasizes English and Spanish literacy, logical reasoning, historical perspective, and creative expression. As a dual language immersion school, it serves 430 students from more than 70 different zip codes.
Cofounded by Julian Omidi and Dr. Michael Omidi, the Children's Obesity Fund (http://www.childrensobesityfund.org) hopes to help reverse the trend of rising obesity rates in America. The goal of the non-profit charity is to help people fully understand the obesity issue and its dire impacts on individuals and society as a whole -- and to use that knowledge to encourage children to grow up strong and healthy. Children's Obesity Fund partners with other organizations to educate and support parents, educators and others so that we can all work together to raise healthy, active, social, and happy children. While the organization does not accept donations, it does encourage direct contributions of money and talents to the associations featured on our website. Children's Obesity Fund is on Facebook as well as Google+, Twitter, and Pinterest.