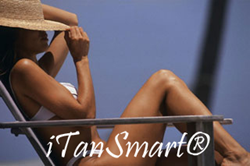 Enjoy spring break, use iTanSmart and don't get burned.
Fort Myers, Florida (PRWEB) March 10, 2014
The top spring break destinations are: #1 South Florida, #2 Orlando, #3 Phoenix, and #4 Fort Myers, Florida. Fort Myers is also home to UV Technologies, LLC, makers of iTanSmart. iTanSmart is #1 when it comes to an effective and easy to use sun tanning app that helps prevent sun burns that can ruin a vacation and possibly have serious long term side effects.
iTanSmart was developed by Kevin McGuire, a past spring breaker who after years of sun exposure discovered sunspots on his face that were eventually removed by a dermatologist. Sun exposure in moderation is beneficial, yet overexposure can lead to painful sunburns, premature skin aging like sunspots, and worse yet, skin cancer.
iTanSmart is a free app for Apple iPhones, iPads, and iPods that helps take the guesswork out of sun tanning by alerting the user with audible chimes and and screen notifications when it is time to re-lotion, get out of the sun before burning, and when the minimum and and maximum recommended amount of Vitamin D for the day has been produced. Even if the beach goer is listening to music, iTanSmart will interrupt iTunes momentarily with an alarm or chime to remind the tanner what action is needed to prevent sun damage.
iTanSmart uses five factors: UV index, time of day, skin type, sunscreen's SPF, shaded or direct sunlight and recommends time allowed in the sun before burning occurs.
An important part of this year's spring break check list includes iTanSmart, added insurance that vacation time will be enjoyed and not lost to a painful sunburn.
About UV Technologies, LLC:
UV Technologies, LLC's mission is to provide innovative products for customers' health and well-being. iTanSmart is a sun tan application developed for Apple iPhones, iPads, and iPods. UV-Aid is a supplement that helps prevent colds, flu, sore throats, sinus, and ear infections through the natural process of photo-oxidation. UV Technologies is an accredited business member of the Florida Better Business Bureau. Visit http://www.uvaid.com for more information.