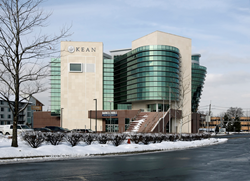 Springfield, New Jersey (PRWEB) March 07, 2014
Kean University's latest addition to its Union, New Jersey campus, a 102,275-square-foot, mixed-use academic building, opened to students for classes on January 21, 2014. Located at the intersection of Morris Avenue and Green Lane, the undulating glass, stone, and brick building now serves as a gateway icon, marking the west entrance to Kean's campus. The Green Lane building, which has already won an AIA Newark and Suburban Architects Gold award, was designed by Gruskin Group™, a leading design firm based in Springfield, New Jersey.
Kean University President Dawood Y. Farahi said, "Kean University is dedicated to the intellectual, cultural, and personal growth of its students, faculty, and professional staff alike. In particular, we are committed to preparing our students to think critically, creatively, and globally. The new Green Lane building is another important step for Kean in providing world-class facilities and educational opportunities for its students. Gruskin Group's vision for the building's design was a compelling one that reflected these values."
The six-story building, which is designed to provide both a stimulating and metaphorical environment for learning, includes a Barnes & Noble college bookstore and cafe on the first floor (both scheduled to open later in 2014), classroom and administration space on floors two through five, and a conference center and rooftop terrace on the sixth floor with views of New York City. The building will serve as the home for Kean's new Robert Busch School of Design, as well as the University's expanding business programs.
"Our goal was to mark the campus entry with a bold architectural statement and announce to visitors and the general public that they are about to experience something special upon entering the campus," explained Kenneth A. Gruskin AIA, principal and founder of Gruskin Group.
Among the building's most distinctive and modern design element is its undulating glass building facade. The geometry of the glass facade captures a visually exciting, ever-changing picture of the building's context, blending together interior segments of the university with that of the surrounding environment. While most academic buildings are typically located on access-controlled campuses or set back far from public roads and walkways, the Green Lane building offers "access" to those who are not part of the Kean University community.
"As a visual metaphor, we hope the glass facade suggests to those not attending Kean that not only is it a public university owned by the people of New Jersey, but it offers a great opportunity for growth and expanding one's personal horizon," explains Gruskin.
Besides being home to the bookstore and café which are open to the public, the exterior skin of the building is designed to facilitate a connection between the building occupants inside and the local community outside. For example, the first floor café spills out from behind its glass facade into an outside seating area located directly under the building's sloped facade.
"From this close vantage point, both the drivers passing by and the café's customers will be able to see each other, providing each momentary engagement and a renewed sense of place," he noted.
A dramatic promenade connects Kean's main campus to the new Green Lane building. Set for completion in the spring, it will offer a series of trees, plush planters, and benches arranged in a geometry that continues the building's narrative. Ultimately, this leads to the escalera, a grand stair that sweeps up to the second floor that is the main entrance to the academic portion of the building. It also features an integrated heating system to keep ice and snow from accumulating on its steps for the safety of its users during the winter season. On sunny days year round, students can be found studying or socializing on the escalera's south facing, bleacher-like section.
"We think it's fantastic that anyone who passes the building on Morris Avenue and Green Lane can have a unique glimpse into what is happening inside the classrooms, student lounges and café. This truly lets the surrounding community feel a greater connection to Kean since it becomes humanized by the faces of its students, rather than defined by just its buildings. Now, those not affiliated with Kean can feel connected to the University — even if it is only for a couple of minutes while sitting at a stop light."
About Gruskin Group™
Gruskin Group™ is an integrated design firm that builds unified brand experiences through architecture, brand development, visual communications, web/interactive, industrial design, interior design, strategic consulting, and sustainable design.
In 2013, Gruskin Group was named among the New York Region's top 100 design firms by ENR. The firm has also been recognized and ranked among the top firms by Architectural Record, VMSD, NJBiz, DDi, and Commercial Construction Magazine and was named to the prestigious Inc. 5000. Gruskin Group and its professionals' award-winning work has been recognized by AIA, the Retail Design Institute, Chain Store Age, ICSC, ASID, New York Ad Club, New Jersey Ad Club, Graphis, and the Association of Graphic Communications. For additional information, visit http://www.gruskingroup.com.