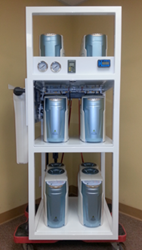 What is most impressive is that our LINX systems accomplish state-required contaminant reductions with minimal water waste. And it can produce water in quantities that can meet nearly any demand.
San Carlos, CA (PRWEB) March 11, 2014
Progress is rarely clouded with notions of failed inspections, denials of permits, or delays in obtaining final occupancy certification; however, that's the situation Lehr Brothers' Big L Citrus Packing in Bakersfield, California faced last month.
In planning for expansions to their current operations, Big L was informed by the California Department of Public Heath that the property's well water contained nitrates in levels nearly double the state maximum allowable level. "Progress nearly came to a grinding halt," recalls John Foley of Rayne of Santa Monica, the mastermind behind the LINX Water System that put the plant's expansion back in motion. Foley continues, "Big L's water wasn't safe enough for hand washing, much less drinking."
Skookum H2O, the local water monitoring and compliance expert in Bakersfield, discovered that there were no reverse osmosis (RO) systems on the market, approved by the State Department of Public Health for Nitrate Reduction, that could reasonably produce the volume of water needed here. This led the search to Pionetics Corporation, maker of the LINX Water Treatment Systems. LINX Systems are not an RO system, rather they employ ion exchange technology.
According to Marty Jessen, Vice President of Pionetics, "If you need water quality that traditional RO systems can't deliver, we've probably already worked out the solution. State water standards are just a starting point - LINX 140 systems reduce nitrates and nitrites by over 90% compared to 70-80% with RO. Our newest system, the LINX 160 reduces nitrates and nitrites to non-detect levels. That's as near to '0' as you can get."
While contaminant reduction is vital, in California water savings are just as critical. Jessen continues, "What is most impressive is that our LINX systems accomplish state-required contaminant reductions with minimal water waste. And it can produce water in quantities that can meet nearly any demand. The best a low pressure RO system would do is 50% water efficiency while the LINX 140, configured in the six-pack set up, will operate at 70% water efficiency. This configuration will save thousands of gallons of water per year which is very important in California and particularly in the current drought."
According to Foley, the challenge was to make enough clean water to constantly support the 50 employee staff's water use. Since the LINX water treatment systems require regeneration down time, the solution was to combine six LINX 140 units on a skid, and program each unit so that they worked together while regenerating independently. Using audible alarms, the system alerts plant personnel when TDS levels of product water exceed a set point or when other water conditions warrant attention. The LINX six-pack system is one component of an integrated design that includes portable exchange softeners, a pressure pump, enclosed pressurized storage vessels, and a UV disinfection system. Prior to this application, LINX Systems have been used primarily in under-the-counter drinking water systems and in bottleless water coolers.
According to Jessen, "This was no small feat; in fact, this is the first system of its kind. The design and creation of the Big L system took about six months from concept to installation, but it's been successful. Initial testing of the system has produced results even better than expected. We were excited to show it off during the Department of Public Health inspection and delighted with the inspection results."
Jessen continues, "We've shown that our LINX technology works exceptionally well in reducing nitrates. With the six-pack configuration, all we have to do is make minor adjustments for the quantity demand of each unique application," says Jessen. "In a state facing epic water shortages, LINX Systems are the solution for so many California homes and business that are faced with nitrate-contaminated water."
About Nitrates
Nitrates (NO3) occur naturally in nature, in food and in the water supply; and the human body needs them to some extent to aid with blood flow and circulation. Nitrates are used primarily to make fertilizer, explosives and glass, and also as a preservative in foods. When exposure to this naturally occurring chemical is in excess, dangerous side effects can occur.
According to the Environmental Health Investigations Branch, one of the problems with ingesting nitrates is that it can cause the hemoglobin in blood to convert to methemoglobin, and this reduces the blood's ability to carry oxygen. This inability to carry the oxygen is a condition known as Blue Baby Syndrome. Blue Baby Syndrome can cause brain damage and even death.
In adults, this inability to carry oxygen through the blood can cause dizziness, headaches, irritability and blue tones to the skin. In pregnant women exposed to high levels of nitrates, problems can include intrauterine growth retardation, cardiac defects, and nervous system defects.
Most poisonings typically occur when these chemicals are ingested in dangerous levels through contaminated well water or municipal water, where nitrate rich fertilizers have leeched into the drinking water supply.
The U.S. Environmental Protection Agency estimates that across the nation as many as 52 percent of community water wells and 57 percent of domestic water wells are contaminated by a measurable amount of nitrates and nitrites. In some of California's fastest growing regions, such as Los Angeles and the San Joaquin Valley, one in every three domestic wells has nitrate contamination in levels that far exceed public health limits.
About Pionetics Corporation
Pionetics is an innovative water technology company that develops smart water treatment products that produce great tasting, safe drinking water with less wastewater than traditional water treatment systems. Pionetics is privately owned and financially backed by Kline Hawkes & Co, NGEN Partners, and Unilever Technology Ventures Fund.
Pionetics is located in San Carlos, CA. To date, Pionetics has been issued over 50 patents worldwide to protect its proprietary know-how and innovative technology.
Contact:
H. Martin Jessen
480-836-0887
mjessen(at)pionetics(dot)com