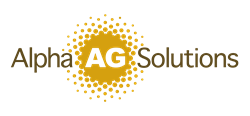 Terra-One CO is a powerful resource for farmers, and now it is OMRI Listed, giving organic growers the peace of mind they are seeking.
Wichita, Kan. (PRWEB) March 05, 2014
Alpha Ag Solutions, a division of Alpha BioSystems Inc., has achieved "OMRI Listed" status for its new Terra-One CO product. The OMRI Listed designation - provided by the Organic Materials Review Institute - recognizes products that have undergone a strict review against OMRI standards to determine their suitability for organic use or production. With the increased interest in organic farming, there are many products that may claim to be all natural and organic, but it is difficult to know the truth until they have achieved an OMRI Listing.
Terra-One CO is a liquid blend of growth-promoting bacteria that increases the availability of both natural and applied nutrients present in the soil. Mixed with irrigation water, Terra-One CO creates a productive environment that is essential to optimum growing. The concentrated blend, including mycorrhizal fungi, unleashes a powerful set of microbials into the soil, which greatly improves soil fertility over time. Terra-One can make an impact in one planting cycle, helping pay for itself.
The soil's ability to promote seed growth can be impacted by many factors, including fertilizers, insecticides, drought and neglect. All of these factors can impact the living ecology found in soil. Higher yields depend on healthy living soil that is filled with an abundance of organisms. Alpha Ag Solutions' Terra-One CO adds back to the soil essential biologicals, helps the root structures and increases organic matter. It can be easily applied through most center pivot applications, drip, drench or spray.
"Terra-One CO is a powerful resource for farmers, and now it is OMRI Listed, giving organic growers the peace of mind they are seeking," said Terry Loucks, executive vice president of technology. Loucks has spent the past 12 years as the head of research and development for Alpha Ag Solutions, focusing on the development of an agricultural product line specific to agricultural waste management and crop-enhancing products.
About Alpha Ag Solutions and Alpha BioSystems
Alpha Ag Solutions is a division of Alpha BioSystems Inc., a company that manufactures all-natural products for vegetation, ponds and even pets. Alpha BioSystems supports the organic lifestyle and takes a strong interest in helping customers lead a healthier lifestyle by using a unique nontoxic blend of microbes and beneficial bacteria. Through Alpha Ag Solutions, the company brings innovative technology to a variety of growing operations and fields.
Call 888-265-7929, email info(at)alphaagsolutions(dot)com or visit http://www.alphaagsolutions.com for more information about Terra-One CO and other Alpha BioSystems products.